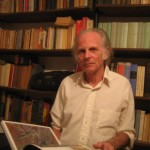 Fred Skolnik was born in New York City and has lived in Israel since 1963, working mostly as an editor and translator. He is best known as the editor in chief of the 22-volume second edition of the Encyclopaedia Judaica, winner of the 2007 Dartmouth Medal and hailed as a landmark achievement by the Library Journal. Other award-winning projects with which he has been associated include The New Encyclopedia of Judaism (co-editor, 2002) and the 3-volume Encyclopedia of Jewish Life Before and During the Holocaust (senior editor, 2001). Now writing full time, he has published dozens of stories, essays and poems in the past few years (in TriQuarterly, Gargoyle, The MacGuffin, Minnetonka Review, Los Angeles Review, Prism Review, Words & Images, Literary House Review, Underground Voices, Third Coast, Polluto, etc.). His novel The Other Shore (Aqueous Books, 2011), set in Israel in the 1980s, is an epic work depicting Israeli society at a critical juncture in its recent history.
Fred, Things Unsaid, your novel-in-progress, is an ambitious undertaking. It's a literary time travel of sorts, bringing Virgil's Aeneid into the present period. What was the source of your inspiration?
After I completed my first novel, The Other Shore (Aqueous Books, 2011), I went back to two uncompleted, thematically related earlier novels that I had been working on for years, called Basic Forms and Death, and managed to finish them (both are now making the rounds of publishers, with an excerpt of the former appearing in Sententia 3). I now felt the need to write another, broader novel picking up the same themes again, and as Basic Forms and Death both had a mythological underpinning (Oedipus in the first, though more in the Freudian sense, and Theseus in the second), I felt committed to the form and began looking for an appropriate framework, finding myself drawn to the Aeneid, which gave me everything I needed in the way of a narrative and a structure upon which I could impose my own. I was also aware of course that Joyce had used the Odyssey in much the same way as I thought to use the Aeneid, and therefore my novel also plays itself off against Joyce's Ulysses occasionally. In fact, Virgil himself used the Odyssey as a model and has a number of parallel sections.