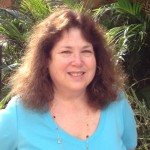 Marlene Olin's stories have been published by Upstreet Magazine, Vine Leaves, The Saturday Evening Post, Emry's Journal, Biostories, and The Jewish Literary Journal. In the coming months, her work will be featured in Edge, Poetica, Arcadia, Ragazine, and The Poydras Review. One of her stories will also be included in Love on the Road, an anthology distributed by Liberties Press.
Born in Brooklyn and raised in Miami, Marlene attended the University of Michigan. She presently lives in Coconut Grove, Florida with her husband but spends part of the year in Jackson Hole, Wyoming as well. She has two children and two grandchildren. She recently completed her first novel.
Marlene, in "The Maid of the Mist" Blossom's age has caught up with her; she's begun having mental lapses and is unable to adequately care for herself. Spells or not, she's still quite clever and keeps her sense of humor, despite a history of mental illness—her mother's in-and-out periods in a sanitarium—and the "quart of milk left out in the tool shed. A set of keys thrown in with the wash." Ultimately, her visit to Niagara Falls in the custody of her step-grandson proves likely fatal. How did you come up with Blossom, and did she have some say—even subconsciously—in her final exit?
I majored in English and was greatly influenced by a handful of very gifted teachers. There's no question that one teacher can change your life. I wanted Blossom to be that sort of person. Placing her in a small town amplifies that influence.
Though I leave the ending uncertain, it's clear to me that Blossom wants to wrest control of her fate.