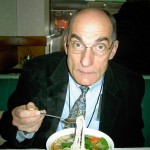 John Guzlowski's writing appears in Garrison Keillor's Writer's Almanac, The Ontario Review, Atticus Review, War Literature and the Arts and other journals both here and abroad.  His poems about his parents' experiences as slave laborers in Nazi Germany appear in his book Lightning and Ashes.  His novel Road of Bones about two German lovers separated by WWII is forthcoming from Cervena Barva Press. Writing of Mr. Guzlowski's poetry, Nobel Laureate Czeslaw Milosz said, "He has an astonishing ability for grasping reality."
John, in "Village of Cold Houses," an excerpt from your forthcoming novel Road of Bones, the Nazi soldier Hans has come to question everything he's done and seen—and his role in mankind at its worst. "Killing was easy. Any man could kill any other man.  Any man could do it to any woman. Hans had even seen women who could do it. They had done it and gone back to stirring their laundry or breastfeeding their babies." Since this chapter occurs towards the end of the novel, how previously did Hans' understanding of war and the depravity of human nature evolve over the course of the narrative?
The chapter takes place late in the novel and late in the war, January of 1944. Hans has been in the war since Sept 1939 and fighting against the Russians on the Eastern Front since 1941. The novel focuses on a one-week period during which Hans realizes his inhumanity, but the story of what he has been like in the war and the depravity he has participated in comes into focus through several flashbacks.
One of the central memories is of a house he and some of his comrades had entered in the first summer of the invasion of Russia. They found an old grandmother and her daughter and her daughter's baby. Hans and his fellow soldiers killed the grandmother and the baby and raped and killed the baby's mother.
This is a memory he tries to escape – and can't. The novel is about his acceptance of what he has done, the acceptance of this memory and the acceptance of his guilt.