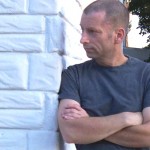 Ben Shaberman's first book, "The Vegan Monologues," is a collection of humorous essays published by Loyola University of Maryland. It features essays carried by a variety of media including: The Washington Post, Chicago Tribune, VegNews, Vegetarian Times, Clean Sheets Erotica Magazine, and NPR's Morning Edition.
By day, he is a science writer for the Foundation Fighting Blindness, reporting on research for inherited retinal diseases. He also has a master of arts in writing from Johns Hopkins University, and has won awards from the Stonecoast Writers Conference (University of Southern Maine) and the Des Moines National Poetry Festival.
Ben, "Missy" is an intriguing excerpt from Jerry's Vegan Women. As it turns out, though, Missy is no longer one of Jerry's women or a vegan by story's end. Perhaps the ideal Jerry formed of her was better suited for her mother, Claire. At what juncture do Missy and Claire appear in Jerry's Vegan Women and how does the story excerpted here play into the broader collection?
The book is comprised of ten different stories with each featuring a different woman or girl, though "Missy" is really a story about two women. The book progresses chronologically with Jerry transforming along the way. Some of the women appear in more than one story, but Missy's one and only appearance is in this chapter. The resolution with the ex-mother-in-law-to-be Claire is revealed toward the end of the book.
"Missy" provides a major turning point for Jerry in which he has the proverbial rug pulled out from under him. Just as he has gotten his vegan life together — gone vegan and become an activist — "meat happens."
But given that Missy is officially the fourth female in the book, there are six more adventures with vegan women to come.
While rather comical, the reader can still identify with the horror that overcomes Jerry when he spies Missy indulging on chicken nuggets at the Chiki-Wiki. To him it's worse than catching her in bed with his brother. For a guy who takes culinary delight in a baked potato bathing in ketchup, the lines are drawn with a purity of conviction. Do you suppose most vegans are so steadfast in their ways or does the lifestyle result in an ongoing set of tests and trials?
Most vegans are strongly committed to the animal-free lifestyle and go to great lengths to maintain their veganism, whether we/they are eating food, purchasing clothes, or buying cosmetics and sundries. Most of our problems are a result of conflicts with non-vegan friends, partners, co-workers, etc., who don't empathize. It actually isn't that tough to get great tasting vegan food. You just have to know where to get it. However, don't get me started on how difficult it has been to find a comfortable pair of vegan business-casual shoes.
Vegans by our nature are rebellious with strong ethical convictions. In this story, I wanted to explore rebellion going in the other direction — someone falling off the vegan wagon.
How is Jerry's Vegan Women structured? Are the stories chronological or sequenced in a particular way? Do some of the women appear in multiple stories? Do their stories overlap?
Each of the stories has its own arc and can stand alone. I wanted the book to be modular so someone could read a story and be able to put it down for a week or two without having to remember every previous character or plot element. I often read books in little chunks — especially when I am working on a major writing project — so this structure suits me personally as a reader.
At what stage is the collection? Are you still writing new stories for the book?
I think the bulk of the book is finished, though I am sure I will do some more polishing and editing. That doesn't exclude the possibility of another story or two. I am trying to distance myself from the book for a couple of months — that will enable me to come back and edit it with fresh, and hopefully more objective, eyes.
I heard that Woody Allen spends so much time with a given movie or script that he is disdainful of it by the time he finishes it. I can relate to that experience — not to being Woody, but to burning out on the material.
Previously, you authored a book of essays, The Vegan Monologues. Are there other creative endeavors of the vegan variety in the works?
Actually, I started a sci-fi-ish book about a boy born without retinas. The story was inspired by my role as a science writer for the Foundation Fighting Blindness.
Thanks, Ben. Is there anything else you'd like to share or explain to readers?
Jerry's Vegan Women is by no means a vegan manifesto. Rather it explores the virtues and idiosyncrasies of those who go meat-free. The stories are fun, poignant and occasionally a little steamy. Many of themes — work, sex, love, and the search for identity — are universal. It is a book that people of every dietary persuasion will enjoy.
Read Ben's story, "Missy," from Jerry's Vegan Women, a story collection in progress.