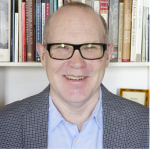 Ed Hamilton is the author of Legends of the Chelsea Hotel: Living with the Artists and Outlaws of New York's Rebel Mecca (Da Capo, 2007). His  fiction has appeared in various journals, including: Limestone Journal, The Journal of Kentucky Studies, River Walk Journal, Exquisite Corpse, Modern Drunkard, and, most recently, in Omphalos, Bohemia, Penduline Press, and in translation in Czechoslovakia's Host.
Ed, your excerpted story here, "A Bowery Romance," is part of a themed collection—The Chintz Age: Tales of Love and Loss for a New New York. What inspired the project? Did it evolve over time or was it something you had your sights on from the very first story?
The stories in Chintz Age are about people in the arts who are struggling to maintain relevance in a world that's becoming increasingly indifferent, and sometimes openly hostile, to their work and even to their very existence. For it seems that the world— especially the U.S., and even more so New York—has become, to a frightening and disorienting degree, all about money and power, while values such as truth, beauty, and personal integrity are shrugged off with a laugh.
At the Chelsea Hotel I live among artists, musicians, dancers, photographers, and people in various other creative fields, and I myself am a writer, so I'm quite familiar with this struggle. For many years, we at the Chelsea were in effect insulated from the pressures of the outside world, monetary and otherwise, but then the hotel was taken over by developers intent on evicting the artists and turning the place into a fancy boutique hotel.
Seeing my beloved arts hotel (124 years as such!) transformed into a construction site, and seeing many of my longtime friends and neighbors unceremoniously thrown out into the street, was what inspired Chintz Age. After the initial upheaval, which coincided with the publication of my first book, Legends of the Chelsea Hotel, I labored for many years to come to terms with the personal dimension of the tragedy that had engulfed us. I went through numerous attempts to write non-fiction stories about the people and issues involved, setting the stories in the Chelsea itself, but I always found that I was too close to the action—which is, actually, still ongoing—too emotionally engaged with the people I was trying to write about. In order to write objectively, I had to take a step back from the hotel, setting the stories elsewhere, and using fictional characters to dramatize them.
So, appropriately, a book about the creative struggle is itself the result of a creative struggle.
In the excerpt, what seemingly begins as a one-night stand in a seedy residential hotel begins to evolve perhaps into something more. Where does Brandy and Mike's story go from here?
"A Bowery Romance" is taken from the longest story in the book, an 80-page novella entitled "The Retro-Seventies Manhattan Dream Apartment." It's a story about the cutthroat competition for living space in New York City, which is why I thought it appropriate to begin with a tour of the lowest rung of rental accommodations, the infamous SROs, or single resident occupancy hotels, of The Bowery, New York's skid row.
As may be evident from the ending of the excerpt, the story is about to take a somewhat surreal turn. Having failed to consummate their affair in the flophouse, Mike and Brandy are headed uptown, way uptown to Washington Heights, to try their luck in Mike's sumptuous Rent Stabilized Apartment, a space which occupies a full floor in a large tenement building, and for which Mike—who has lived in the space since childhood, maintaining the retro decor—pays next to nothing in rent. As gradually becomes apparent, Brandy has picked up Mike as part of a scheme to improve her housing conditions: she intends to steal Mike's apartment.
Another thing the story is about—which continues a theme I explore in Legends—is the connection between creativity and madness. Brandy and Mike are both creative people: Brandy is a Shakespearean actor, and Mike is a computer expert (though his creativity is mainly expressed in his mania for collecting and decorating). And both are crazy: Brandy is a schizophrenic whose mind is populated by various characters who give her (sometimes conflicting) directions; and Mike is a borderline psychopath with his own tricks up his sleeve. Thus ensues a battle of wills between two equally insane opponents—a battle complicated by the fact that they do actually fall in love along the way. Brandy and Mike are soul mates of a very dark and unusual kind.
I like to think that my background in psychology came in handy here.
The gritty descriptions of the Bowery and its streets, buildings, and denizens are wonderful: the checkerboard linoleum floors, the wire-cage separated partitions, the single rooms with simply a sink and a hot plate and bolted-down TV, and "the balding, tattooed desk clerk, who, snoozing in his alcove behind bulletproof glass, had registered the couple's entrance with but one half-raised eyelid." Is the book in some ways a love and loss story about the city as much as it is about its people?
You've hit the nail on the head! As the subtitle of the book indicates, "Love and Loss" is indeed a major theme, both in the sense of ordinary human love and heartbreak—and many of the stories in Chintz Age are love stories in this sense—and of a more transcendent love for New York, the eternal city of our dreams, which nevertheless tends to let us down on a regular basis. New York has a terrible, frightening beauty: she's a femme fatale rendered even more desirable by a hint of danger. To scrub her up too much diminishes her appeal.
To continue with the metaphor: New Yorkers carry on a tumultuous love affair with their city, and those of us who've been here the longest may begin to feel neglected, even abused, as our seemingly unfaithful lover fixes upon a new object of affection. But is this changing of the guard necessarily a bad thing? And hasn't it always been this way? As the developers are fond of saying: you can't stop "progress." So should we look backward in teary-eyed nostalgia for the glorious past, or grit our teeth and move forward, accepting the inevitability of change in order to carve out a place for ourselves in this Brave New New York?
Or, to put it another way, with slightly different options: should we stick with our beloved through thick and thin, or divorce her and get the hell out while our sanity is still reasonably intact? Either way you look at it, I don't think it's an easy or straightforward choice, certainly not for most of the characters in my stories, and not for myself either.
Which brings us to the matter of the subtitle itself: obviously most works of fiction don't have a subtitle, but I figured, hey, there's no rule against it, so why not be different? After all, that, for me is the message of the city itself: it's organic, anarchic, wild and untamed, the very antithesis of the standardization that developers and suburbanites are so intent on opposing.
Can you summarize some of the other stories in the book? Are the characters and neighborhoods similar to Brandy and Mike in the Bowery, or are a wide variety of NYC types and locales represented?
The stories deal with various types of artists and creative people—writers, visual artists, musicians—successful and unsuccessful, and with the pimps, whores, homeless people and drug dealers with whom they often associate; and the locales range from the Lower East Side to the Meat Packing District, from Bushwick, Brooklyn to Hell's Kitchen, and from The Bowery (Broadway's Dark Twin!) to Washington Heights on the very northern end of Manhattan. The focus is on the seedier, more out-of-the-way corners of the city, places that had been resistant to gentrification in the past, and where the changes that have taken place over the past decade are thus all the more striking.
The topic of the changing city is approached in various ways, which often involve a character reevaluating his life from a moral perspective. In "Fat Hippie Books," a man who has run a bookshop for twenty years and is faced with its imminent closing undertakes a cross-country journey of self-discovery that's intended to mirror one of Jack Kerouac's famous trips. In the title story, a successful artist who is turning over her prized East Village apartment to her niece and the younger woman's fiancé, decides to stage one last dinner in the old place, a Thanksgiving feast to which she invites a homeless man who is a ghost from her radical past. In "Rock of the Lower East Side," a rocker-turned-corporate-lawyer revisits the scene of his youthful love affair in Tomkins Square Park, CBGB, and finally in a ruined tenement set for demolition. And in "Highline/Highlife," a young writer is driven to adultery, and then madness, through living under the constant scrutiny of passersby in a glass-and-steel condo tower in too-close proximity to the old converted train trestle.
 The Chintz Age is targeted for publication. Congrats on that! Can you explain for readers a little bit about how its upcoming publication came about?
Chintz Age is due out on November 1, 2015 from Cervená Barva Press, a small, independent publisher operating out of Somerville, Massachusetts. The press publishes lots of poetry and translations of Eastern European literature. I did dozens of interviews about my previous book and the sorry state of the hotel, so many, in fact, that by the time I was writing Chintz Age I had grown sick of the subject and had taken to ignoring the overtures of the journalists who continued to try to contact me. However, one such appeal stood out: Doug Holder, who covers the local arts scene for the Somerville Times, seemed to be doing an invaluable service for the poets and writers in his hometown. And so I agreed to meet with him on the condition that we also talk about my more recent work. Doug read some of my fiction, and liked it, and suggested I send the Chintz Age manuscript to Cervená Barva. The editor, Gloria Mindock, accepted the manuscript, and we met later and signed a contract when she was in town reading her poetry at the KGB Bar in the East Village. She's one of the good ones too, someone with a genuine concern for preserving the arts community of her hometown.
What other creative projects have you got going these days?
Right now I'm working on a novel, and while I don't want to give too much away, I can say that it's a love story about artists and witches living in the Chelsea Hotel in the sixties (there was, actually, a lot of black magic being practiced in the Chelsea in those days). For now, at least, it's called Flophouse of the Damned. As the title would indicate, it's a comedy, hopefully something a bit lighter than The Chintz Age—although, come to think of it, there's a lot of humor in The Chintz Age. Despite it's serious subject matter, it's a funny book, too.
Thanks, Ed. Is there anything else you'd like to share with or explain to readers?
One of the main themes of The Chintz Age is that neighborhoods and cities seem to go through phases: they're built for the wealthy, then they go downhill as they age, then they are refurbished, and the cycle begins anew. Sooner or later New York is going to get too boring even for the rich people for whom the developers are ostensibly rebuilding it. After all, what's the point of moving to New York if you're still going to have to eat at the Olive Garden and shop at the Gap? All the interesting, unusual shops, and the vibrant culture and street life, are what people come to New York for; they come here because it's different from the suburbs, not the same.
We may be seeing the beginning of the changing tide already. I read an article recently about how Starbucks—one of the main culprits in running out the mom and pop coffee shops—is now closing several of its outlets because the rents have become too high even for them! Rent stabilized apartments are becoming so valuable that developers can't afford to pay enough anymore to get tenants to leave. Many of the new apartments being built in all these chintzy condo towers around the city aren't even being inhabited by the wealthy anymore; instead they're being left vacant (or sublet as short term hotel or dorm rooms) while they're traded like stocks by real estate speculators. As a recent New York Times series indicates, foreign investors are using them to hide assets. These apartments are becoming wildly overvalued, and eventually the bubble will burst, the market will collapse—and then the glass and steel behemoths hemming in the Highline can be converted into subsidized housing for people in the arts!
Well, we can dream, can't we?
Read "A Bowery Romance," a story excerpt from The Chintz Age: Tales of Love and Loss in New New York