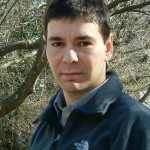 Jacob M. Appel's first novel, The Man Who Wouldn't Stand Up, won the 2012 Dundee International Book Award and was published by Cargo; his second novel, The Biology of Luck, was recently released by Elephant Rock. Jacob's short story collection, Scouting for the Reaper, won the Hudson Prize and is forthcoming from Black Lawrence Press. His short fiction has appeared in more than two hundred leading literary journals including Agni, Alaska Quarterly Review, Colorado Review, Gettysburg Review, Michigan Quarterly Review, Prairie Schooner, Raritan, Shenandoah, Southwest Review, StoryQuarterly, Threepenny Review, Virginia Quarterly Review and West Branch. His prose has won the Boston Review Short Fiction Competition, the William Faulkner-William Wisdom Award for the Short Story, the Dana Award, the Arts & Letters Prize for Fiction, the North American Review's Kurt Vonnegut Prize, the Missouri Review's Editor's Prize, the Sycamore Review's Wabash Prize, the Briar Cliff Review's Short Fiction Prize, the Salem College Center for Women Writers' Reynolds Price Short Fiction Award, the H. E. Francis Prize, the New Millennium Writings Fiction Award on four separate occasions, an Elizabeth George Fellowship and a Sherwood Anderson Foundation Writers Grant. His stories have been short-listed for the O. Henry Award (2001), Best American Short Stories (2007, 2008), Best American Nonrequired Reading (2007, 2008), and the Pushcart Prize anthology (2005, 2006, 2011). Jacob holds a B.A. and an M.A. from Brown, an M.S. in bioethics from the Alden March Bioethics Institute of Albany Medical College, an M.A. and an M.Phil. from Columbia, an M.D. from Columbia University's College of Physicians and Surgeons, an M.F.A. from N.Y.U. and a J.D. from Harvard Law School.
Jacob, The Man Who Trounced God at Chess starts a year into Balint's serial killing spree, but this chapter recounts the circumstances with his wife and Sugarman that initiated his metamorphosis from "conscientious physician to calculating assassin." What specific timeline does the novel eventually cover? Does it take place over the aforementioned year, or does it continue beyond the time period of the opening narration?
Figuring out how much time the storyline covered was one of the challenges of putting this novel together.  I knew that I wanted some narrative distance, but I wasn't initially certain how much. Eventually, I realized I needed to start in the middle–beginning after Balint has become an assassin, but before his assassination efforts reached a climax.
The reader learns that the cuckolded Balint tried to do things the right way only to discover that "Playing by the rules was for losers." Amanda was his rock, taking care of everything in their daily lives, so it's understandable he sees Sugarman a threat not only to his marriage, but to his entire existence. Planning Sugarman's murder is one thing, but the excerpt alludes to the future slayings of "innocent strangers." Is there any sense of nobility in the killings to come, or has his moral probity gone by the wayside?
I'm not sure Balint posessed any moral probity to start with.  I see this as less a novel about how a "good man turned evil" and more the story of how an evil man is unmasked by circumstances.  We're not all sociopaths, of course, but some of us are — and the rest of us don't have to come to terms with this unfortunate reality until those sociopaths among us face duress and reveal their true natures.
While Balint's discovery and subsequent plan of action are tragic and troubling, the narrative voice in this excerpt is always engaging, and sprinkled with (subtle and mostly dark) humor. Is humor (in all its forms) often an important aspect in your creative work?
Absolutely.  If you can't leaven horror and calamity with humor, readers quickly drown under the weight of life's adversity.  Why would I want to read a book about awful people, after all, when I can spend the weekend with my in-laws and experience awful people first hand? The difference, of course, is that my in-laws are nothing to laugh about, so a book with a dash of humor is instantly more appealing.  (A book also won't criticize my driving or parenting.)  Even novels of deathly seriousness and consequence, such as Styron's Sophie's Choice, have bouts of hilarity.
You obviously have extensive experience in medicine. Can you talk about your background in the field? Is it often a focus in your fiction?
I've been both a doctor and patient.  I've discovered I like being a doctor better, so I've stuck with it.  However, this is the first time I've tackled the world of medicine in a larger work. I've explored it tangentially in a few short stories.  It actually surprises me that I've written about medicine at all.  The last thing a bus driver wants to do on vacation is ride the bus.
In his separate interactions with Amanda and Sugarman, Balint second guesses many of their words and actions as well as his own. He feels "like an actor in a play." But Balint doesn't detect anything out of the ordinary and hopes he hasn't betrayed his own knowledge. In drama and storytelling, the dialogue and actions need to persuade. What are your thoughts on what it takes to write convincing dialogue?
A lot of luck.  But I do think my formal training as a playwright (I have an MFA in playwriting from Queens College) and my years writing drama have helped.  At the same time, characters in a novel do not–and should not–speak like characters in a play.  On stage, silence is valuable. On the page, lots of blank space is awkward, and often looks like a printing error.
The Man Who Trounced God at Chess is now complete. What next? Are you soliciting the novel to some very lucky agents or publishers?
I already have a wonderful agent.  I'm not sure how lucky she is –she probably asks herself every morning why she ever agreed to get mixed up with the likes of me.  I imagine she will foist this project on an unsuspecting publisher eventually.
What other creative projects do you have going these days?
I'm working on a novel about Civil War deniers tentatively entitled Surrendering Appomattox.  But I've been working on it for sixteen years, so don't hold your breath.
Thanks, Jacob. Is there anything else you'd like to share with or explain to readers?
If one of your readers happens to be a woman who turned me down for a date in high school, I'm hoping she reads this interview with crushing regret at having missed the chance for romance with a live author. But who's bitter after twenty-five years?  Otherwise, if you're any other reader, I just hope you enjoy my books.
Read Jacob M. Appel's excerpt from The Man Who Trounced God at Chess, his novel in progress.