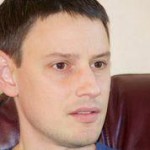 Jamie Duclos-Yourdon, a freelance editor and technical expert, received his MFA in Creative Writing from the University of Arizona. His short fiction has appeared in the Alaska Quarterly Review, Underneath the Juniper Tree, and Chicago Literati, and he has contributed essays and interviews to Booktrib. His debut novel, Froelich's Ladder, will be released by Forest Avenue Press as part of its 2016/2017 catalog. He lives in Portland, Oregon, with his wife and two children.
Jamie, this excerpt from Poor Henry finds the protagonist juggling new-father and house-husband responsibilities, which on this day include a "secret mission" to retrieve a family portrait. However, the normal excitement of his daily life is suddenly jolted by the appearance of a stranger outside his living room window, seeking safety. What was the genesis of the school shooting plot twist as you pieced things together?
School shootings have become so depressingly common in the United States, it didn't seem far-fetched to imagine one occurring in Vancouver, Washington. For the purposes of Poor Henry's narrative structure. I needed a definitive action to take place at the midway point. While the shooting itself doesn't represent that action, it does create an environment in which the characters can meet, and their worst attributes can be brought to the fore.
Henry is an attentive father, who concerns himself with Peyton's early-stage development, going so far as to contemplate the dynamics of how best to check for poopy diapers without reinforcing undesired behavior. Quite a contrast from the trigger-happy events outside their "terrarium" that day. Does Henry worry about the world into which he's brought his daughter, where digital white noise apps are relied upon for sleep and the word "shooting" is most commonly used as a noun?
Henry is overwhelmed, as are many first-time parents. But if you asked whether he were more concerned about the world he lives in, or the world that's yet to come, I think he'd choose the latter. He's a control freak; unfortunately, having a child means ceding control. Henry frets about inevitable changes to technology—such as smart phones and social media—and his evolving relationship with his daughter. Ironically, a far greater threat has already introduced itself.
The narrative structure of the novel is intriguing as subsequent chapters present earlier periods in Henry's life. Can you describe how his story unfolds as the novel progresses?
Without giving too much away, the novel is arranged in nine sections, each one half the length of its predecessor. Thus, the first section is 40,000 words, the second section is 20,000 words, etc. As you mentioned, the narrative moves backwards through time, from 2014 to 1977. I wanted to explore the concept of determinism versus free will—whether the arc of a life is truly inevitable, or subject to deviation. The winnowing effect represents the diminishing choices available to Henry as he gets younger and younger.
You're not the only writer in your household. WIPs had the recent pleasure of publishing work from your wife (Melissa Duclos)'s novel Besotted. In what ways do you support each other in your writing endeavors? Have the two of you ever collaborated on a project(s) together?
Gosh, I can't begin to quantify the support that Melissa's given me; I only hope I've returned the favor. She's the first to read everything I write, and my most trusted critic. She's pointed me in directions I never would've considered, and continues to champion work that I've given up on. As a matter of fact, we have discussed collaborating on a novel, even going so far as to outline it. If I'm not mistaken, I'm the one holding up the project, since the first draft falls to me. Maybe once I'm done editing Poor Henry …
How are things coming together regarding the manuscript? Have you been querying agents or publishers yet about Poor Henry?
I haven't begun the process of querying agents or publishers, though I've given my elevator pitch to a number of unsuspecting individuals. I've got roughly 3-4 months of editing ahead of me, but I should have a polished manuscript by mid-summer. If anyone reading this would like to see a full or partial, please DM me at @jamieyourdon.
What other creative projects have you got going these days?
My debut novel, Froelich's Ladder, will be released by Forest Avenue Press in 2016. It's the story of Froelich, who nurses a decades-old family grudge from his perch atop a giant ladder. When he's discovered missing, his nephew embarks on a rain-soaked trek across a nineteenth century Pacific Northwest landscape to find him, accompanied by an ornery girl with a most unfortunate name. In their encounters with Confederate assassins, European expatriates, and a general store magnate, this fairytale twist on the American dream explores the conflicts between loyalty and ambition and our need for human connection, even at the highest rungs.
Thanks, Jamie. Is there anything else you'd like to share with or explain to readers?
First, let me thank you, Roland, for the opportunity to share my work. It's rare for venues to publish works in progress, much less incorporate that mission statement into their name! Writing can be such a valuable process of exploration; at the same time, we're taught to treat fiction as being static. I wish more editors would follow your example, and engage writers still tinkering with their first, second, or third drafts. So thanks again!