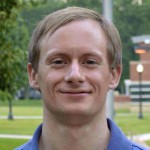 Justin Nicholes is the author of the novels River Dragon Sky (2012) and Ash Dogs (2008). His stories have appeared in The Saint Ann's Review, Slice, Prick of the Spindle, Cleaver Magazine, Outside In Literary & Travel Magazine, The Summerset Review, Stickman Review, The Medulla Review, and elsewhere. He is the chief editor of The Pavilion literary magazine for expat writing and lives in Xinzheng City, China.
Justin, "The Writer," a prologue to your story collection, is an interesting work of metafiction. Here, the writer conjures the character of Turtle, a 400-pound man who, because of a car accident, is mentally deficient and carries a titanium plate in his head. He represents life as art. The writer herself, originally from Ohio has come to China to teach English, and takes the reader through the process of her work, and the joys and hardships she's had in terms of getting published. As an Ohioan writer now teaching in China, yourself, how closely does the writer as portrayed in the story resemble your own thoughts on writing in general, as well as your particular interests in creating fiction based on the lives of Chinese men?
The writer in the story mostly resembles an attitude (or a mood or phase) rather than my overall thoughts on writing. She's a dedicated writer who's gone through an MFA and published a little, but she's starting to become cynical. A lot of writers go through this, I think. At first, when we start nailing down the basics, it seems like we're close to reaching the point where we can finally get published, where an editor we've never met looks at our writing and affirms it with acceptance. But we can't always be at this point yet. Our fiction isn't ready. We're not ready. To quote my former writing teacher Richard Spilman, "Beginners often write as if they were landscape painters trying to get the leaves right". What Richard means is that, with time, writing day after day makes a writer able to cultivate serious thought or surprise in writing, when what the details were trying to murmur finally gets through to us, and we feel our way through the writing process by placing ourselves in the work.
At the beginning, the writer in this story resembles this landscape painter, not writing as if her life is also at stake, not writing as if getting the story right means at some level life or death. By the end of this short piece, though, she comes to an understanding. The writer's understanding, yes, does resemble mine when creating fiction. The writing process for me always starts with trying to get the details, then letting those details tell me what the meaning and purpose of the work may be, after I read through it a hundred times and revise.
In the story, the writer reflects unfavorably on Sherwood Anderson's Winesburg, Ohio, and the irony of the town's name with her own. Anderson's estimable collection seemed to hold a promise to her that didn't deliver. "She felt cheated. She'd once believed people cared about what a person wrote, but most people seemed not to care." Can you elaborate on this point?
Maybe no other book has influenced me more than Winesburg. The first time I read it, one summer as an undergraduate, a small part of me did feel like Anderson had beaten me to a story concept. That sounds self-centered, I know, but the deeper understanding from that book was that, yes, a writer could and should write about his or her place. I actually grew up in Austinburg Township in Ashtabula County. The proximity to Lake Erie creates a microclimate great for growing grapes, so a number of wineries open for business among the many vineyards. The mention of Winesburg in my story collection's prologue is meant to activate all that imagery of that story collection, pay small homage to it, and in some ways, my story collection emulates Winesburg the collection. All the stories take place in one Chinese city: Anyang, in the Henan province of China. Characters featured in one story reappear in subplots of others, illuminating (I hope) a world.
How have your experiences living in China influenced your writing, perhaps in theme, subject matter, even stylistically? How did the notion of putting together your current story collection evolve? Was it a case (as in the story) that "Everyone who lived in China for a year or two tried writing one"?
A number of colleagues have said they were thinking of writing a China book. The newness and sometimes strangeness do, I think, naturally make us want to try to make sense of it in writing and maybe communicate it to others.
Writing every day has become habitual for me, so it was sort of natural that my writing would start to touch on China, where I had just started living. In the beginning, it's really hard to find out what's going on here. My first year, just before winter break, a student had sent me a hyperlink to a video that showed flames pumping from a dormitory window. It had just happened on campus the day before. The scary thing, though, was that none of the foreign faculty members had been notified. When I dug deeper, I found out (from students, so it was always at least half gossip) that the arsonist had entered campus, attacked a guard, broken into a girls' dorm, and ambushed his former girlfriend. He may have used a knife. He may have even killed her. The arsonist was on the run after that, we then heard, and threatened to attack a foreigner next. Security guards stood outside our dorm, but so much was kept officially murky and sinister.
I drafted a story entitled "The Arsonist" that winter, detailing all the rumors so carefully that I actually woke from the fictive dream I had been creating and, for just a moment, was sure the real arsonist was outside my dormitory door, somewhere in the unused, unlighted fifth floor maybe. I had merged worlds. It was terrifying and exhilarating, and the arsonist became a central figure in my novel, River Dragon Sky.
One reason I decided to focus on Chinese men in my short fiction was because I'd just finished that novel, which concerns a young Chinese woman, two Americans who fight over her and act poorly in China, a young Chinese man, and a fortuneteller. After finishing the book, I realized the only point of view I hadn't inhabited during that novel was the young Chinese guy. This collection, then, is meant to rectify this. I ignored him, and now he's having his say, he and his relatives and friends.
So to wordily answer the question, yes. My trying to understand where I was living (as well as my own role in creating my world here) charged my imagination and gave me a lot to write about in this "rural" industrial cityscape.
You have written and already published a number of related stories for which "The Writer" is the prologue. Can you briefly describe some of their characters and storylines? Do they contain metafictional elements as well in their narration?
"Prologue: The Writer" introduces two characters who reappear in the book: Turtle (the big guy and catalyst of the writer's art) and Junping (the fortuneteller). I've written of Junping before. He's the main mover in River Dragon Sky. Apparently, he wasn't finished haunting me.
Turtle returns, and his dealings with Junping are developed, in another story, which also introduces a police officer as Junping's antagonist. The officer gets treatment in a story about a boy and his mother in a story entitled "The Factory." This same boy makes up stories in another piece that comes close to metafiction. In "It Never Happened," the man who injures Turtle has his story told, and helps tell it himself through his actions and thoughts.
Other stories involve a migrant worker who may or may not already be dead, a girl who tells of being abandoned after her brother is kidnapped from her hand, a bank security guard during a national run on salt, and a guy who makes a living ripping people off in ATM scams.
Are you still writing stories you intend to include in the collection? What are your goals in terms of completing a manuscript and seeking publication?
Of the pieces that make up the collection, a few are still in progress, which means I have them drafted but need to polish them up until I'm satisfied they make sense. One of them is a novella that I may or may not include. It concerns a young Chinese American. The idea came to me while watching an interview of the Filipino-American boxer Nonito Donaire, who has said he used to go home from school after being bullied and wonder why he was even alive. Being married to a wonderful Chinese woman, I've often wondered what kind of challenges young people with Asian parents undergo in America.
I'd like to have a "finished" collection by fall 2014 to send out to publishers.
Do you have other creative projects presently in the works, or ideas for what comes after you put the story collection together?
I have one finished and one nearly finished novel, and I'll keep working on the short stories, which are always challenging and exhilarating to draft and work on.
Other than writing, I recently created a literary magazine that publishes the fiction, poetry, and nonfiction of current and former expats of any political border, The Pavilion. I'll also keep critiquing and helping writers develop their stories and novels through Our Stories, which I've been doing since 2007.
Thanks, Justin. Is there anything else you'd like to share with or explain to readers?
It may be preaching to the choir, but I'd like to emphasize just how important a role literary magazines play in the United States. Ray Bradbury (Fahrenheit 451) would be proud. So much multimedia competes for our attention, but this quiet time with words and thoughts helps us record and make sense of our lives in the moment.
Read Justin's excerpt, "Prologue: The Writer," from his story collection in progress.