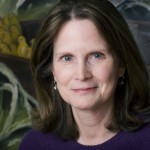 Kat Meads is the author of 15 previous books and chapbooks of prose and poetry, including: 2:12 a.m.; For You, Madam Lenin; The Invented Life of Kitty Duncan; Sleep; and when the dust finally settles. She also penned a mystery novel written under the pseudonym Z.K. Burrus. She has received a National Endowment for the Arts Fellowship, a California Artist Fellowship, and artist residencies at the Fine Arts Work Center in Provincetown, Yaddo, Millay Colony, and Blue Mountain Center. Other prizes include the Chelsea award for fiction, the New Letters award for essay, and the Editors' Choice award from Drunken Boat. Her short plays have been produced in New York, Los Angeles, San Francisco, Las Vegas and elsewhere. A native of North Carolina, she teaches in Oklahoma City University's low-residency MFA program.
Kat, this excerpt from In This Season of Rage and Melancholy Such Irrevocable Acts as These begins with the story of Elizabeth Jane Anderson's brief relationship with a soldier on leave that leaves her pregnant but determined. She chooses not to inform the soon-to-be father and instead moves out of her aunt's place and into a small cornfield trailer, prepared to raise the child by herself. But she miscarries. To quote her God, "All [she] had to do was sit back, grow fat and lazy." How does Elizabeth's pregnancy and the loss of her child affect her actions moving forward?
The miscarriage has a devastating effect on Beth (Elizabeth). Although the pregnancy wasn't planned, having a child turns out to be something she desperately wants—something that gives her a purpose, something to hope for, live for. When Matt Spruill starts pursuing her again and proposes marriage, she feels trapped and cornered, convinced that she's not "wife material" either.
By the end of the excerpt, Elizabeth's sole company is her personally-crafted God, whom she wanted "to resemble in no fashion His Pentecostal predecessor." Should readers infer that religious beliefs dominated her life? In what ways does she change by devising a god of her own choosing?
Religion and its practice made up a large part of Beth's life when she was a child. And Aunt Grace, in Beth's mind, is much associated with church and scorn for the "sin" of human failure. Initially, Beth's God re-do is a healthy impulse. In the "company" of a less harsh, less judgmental deity, she doesn't have to feel quite so guilty about what she perceives as her many failures. But the God/Beth honeymoon doesn't last.
Elizabeth is one of four central characters in the novel. Can you talk a little about the others and how they figure into things?
Leeta (Scaff), who rescues Beth from Jerry Banks's playground gang, is one half of a couple that Beth makes into a kind of surrogate family for herself. Although Leeta's husband, George, doesn't show up in this excerpt, he's another central character. George Scaff inherited the family farm at a time when small farmers represent a dying breed. Leeta isn't satisfied being a farmer's wife. For much of the novel, a lot of Beth's energy goes into trying to keep George and Leeta together.
The scenes in the excerpt take place in North Carolina in the 1970s. How did you choose this place and time? Does the novel include scenes or sections in other locales or time periods?
This novel takes place over a few months in 1978 and is set entirely in Mawatuck County, a stand-in for the county in North Carolina where I was born and raised. I've published two other novels based in Mawatuck, The Invented Life of Kitty Duncan (Chiasmus Press) and when the dust finally settles (Ravenna Press). Self to self, I consider Rage and Melancholy to be the final book in my "Mawatuck Trilogy"—though the three novels needn't be read as linked. Altogether, those three novels cover a time frame of approximately 30 years (early 1950s to late 1970s). In my actual home county, an awful lot changed in those 30 years: socially, economically, politically. Very broadly speaking, Kitty Duncan deals with shifting women's roles, dust with issues of race and Rage and Melancholy with real estate development and religion. In some ways, writing the Mawatuck novels has been my attempt to make sense of what I witnessed in a particular pocket of the South.
What state is the novel in? Do you have a completed manuscript at this point or targeted timeline for completion?
I just this week signed a contract with Queen's Ferry Press to publish the novel in 2017. So you catch me in a state of elation and wild celebration! Several years ago, Erin McKnight wrote a wonderful review of my flash fiction collection, Little Pockets of Alarm, for Prick of the Spindle, so in sending her the novel to consider for Queen's Ferry, I was cautiously optimistic that our literary tastes would again overlap. Queen's Ferry publishes fiction that combines structural innovation with emotional punch—a description that I hope applies to Rage and Melancholy. That was certainly my intent in writing the novel. I couldn't be happier that this one found a home at Queen's Ferry. I think it will be a very good fit.
What other creative projects have you got going these days?
A couple of short plays—one of which "stars" Eva Peron.
Thanks, Kat. Is there anything else you'd like to share with or explain to readers?
My descriptions of my novels always make them sound unrelentingly grim. Right now, I'm wondering: why didn't I mention any of the funny parts?!? So, for the record: Beth's tuxedo-wearing God has his funny moments. As does Elizabeth Jane Anderson.
Read "Come My Love, and Be with Me," an excerpt from Kat's novel, In This Season of Rage and Melancholy Such Irrevocable Acts as These