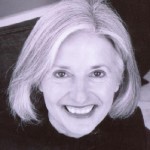 Kate Bullard Adams leads a very pedestrian life in Charleston, South Carolina, and depends on her writing to liven things up. Right now, her fictional cast of pre-Great Recession investment bankers on Wall Street is giving her all the excitement she can handle. Her short stories have appeared in Chautauqua, Harpur Palate, turnrow, The Portland Review, and elsewhere, and both her short and long fiction have reached the final rounds for various awards, including Glimmer Train's Short Story Award for New Writers, the A.E. Coppard Prize (Coffee House Press), and the Faulkner/Wisdom Prizes.  Just last week, she learned that her only unpublished story is a finalist for december's Curt Johnson Prose Award in Fiction. Wish her luck.
Kate, chapter four of Bailout revisits an earlier period in Alex's life, during the early days of her investment banking career, as a floor trader well before she became a candidate to become Wall Street's first woman CEO. How does the chapter fit into the greater context of the novel in explaining her character? Does the loss of her stillborn child ultimately enable her professional success, either in practical terms or as form of motivation?
This chapter ties in with the theme of risk, which is central to the novel and to Alex's character. For a trader, like Alex, risk is a necessary evil. Any trade entails a certain amount of risk, and the greater the risk, the greater the potential rewards as well as the potential losses. When a market is booming and rewarding increased risk, as was the case with real estate and related securities leading up to the recent crisis, it's easy for a trader to forget the possible downside. For Alex, however, the inexplicable loss of the child that she had carried to term, and expected to deliver successfully, taught her the devastating lesson that "there was no way of ever knowing the worst that could happen until it was too late." To escape the pain of that loss and the attendant demise of her marriage, Alex threw herself into her career at Grady Cole. There, her single-minded focus along with her intimate knowledge of unforeseen risks and their incalculable dangers propelled her career and positioned her to become the first female CEO on Wall Street.
In this flashback chapter she's married to Drew, a surgeon in residency. Because of their all-consuming professional lives they rarely cross paths, even at home (he's a no-show at his own surprise birthday party). The promise of a child draws them closer together but then tragedy strikes. Although they subsequently divorce, does their relationship continue to play a role in the narrative, perhaps through ongoing backstory?
This chapter is the only one in which Alex's relationship with Drew takes center stage. By the time Bailout begins in early 2006, Alex is 47, has been divorced for 14 years, and has no direct contact with her ex-husband. The only remnants of Drew that linger in her outward life are the bolo ties that are her signature neckwear—Drew was from Oklahoma and a steer-roping champion in his teenage years—and her close friendship with Ellen Phillips and her husband Jack, who practices orthopedics with Drew. Alex's inner life, however, is a different story. Within four years, she lost both her child and her husband; she has buried the memories of both deep in her psyche. But, "like phantom limbs", they continue to make their presence known. And her eventual acknowledgment of, and coming to terms with, these losses is part of what Bailout is about.
The scene, setting, and descriptions of the investment banking world are very convincing. What is the basis for your expertise on the subject matter? Is it through extensive research or do you have first-hand experience from working in the industry?
It's a relief to hear the words "very convincing." Bailout is by far the most ambitious writing project I have ever tackled and frequently brings to mind Michael Chabon's remark, "A book itself threatens to kill its author repeatedly during its composition." Bailout holds a gun to my head almost every day! I have never worked in the financial industry and have no firsthand experience or expertise related to investment banking. What I do have is a remarkable son, now a chef, who worked on Wall Street from 2004 to 2007 in debt capital markets. Only when he agreed to proofread for me did I get up the nerve to take on this material. Then I spent months researching and researching and researching some more, reading widely as well as making several trips to Manhattan. I have also taken heart from the remarkable Hilary Mantel's belief, as quoted by Larissa MacFarquhar in The New Yorker, "that there are no great characters without a great time; ordinary times breed ordinary people." I would substitute "extreme" for "great." And I sure hope she's right.
This chapter references the mortgage collapse, market crash, and junk bond scandal of the late 80s, while relating how Alex "knew the only way to survive was to keep making money, and the only way to do that in a shrinking market was to take risk. So even while all her inner alarms flashed red, Alex forced herself out on limbs that she hoped could hold her weight." Later Bailout goes into the more recent crises that still resonate today. Do you allow yourself as the author to insert some of your own personal thoughts on the financial crisis to reflect through the pages' scenes and characters? Are any ideas or solutions presented in the storyline for which a case could be made to solve problems in the real world today?
In general, I'm not a fan of agenda-driven fiction. Nothing makes me put aside a story or novel faster than feeling that a writer's main purpose is the promotion of a cause. Having said that, I do think that many—not all, but many—protagonists reflect at least some of a writer's behaviors and beliefs. Alex would be an example of that. For much of her career, she has loved and taken pride in her work. Although not driven by greed, she doesn't object to the idea of making money. She would never have gotten where she is if she did. She is, however, a principled person, and when she sees the avarice and excess that have corrupted many of her colleagues and that threaten to topple the global economy, she has to take a stand. Offering a systemic solution to a crisis of this scale is beyond the scope of this novel. But if more financial professionals shared Alex's integrity and historical perspective, they would be much less apt to get themselves, and the rest of us, in trouble.
What is the current status of the novel? Are you still working on the manuscript or sending to agents, publishers, etc.?
I'm about one-third of the way through the novel and still very much at work on it. With most of the research finished—and with some major distractions in my personal life behind me—I'm hoping to finish it before the next financial crisis hits.
 In addition to Bailout, do you have any other creative projects presently in the works?
I have another novel manuscript that I've been revising off and on for years. I recently gave it another run-through and, for the moment, feel like it's finished. I've written some short stories, all but one of which have been published, and have several more floating around in my head, but they'll have to wait until I finish Bailout.
 Thanks, Kate. Is there anything else you'd like to share with or explain to readers?
Not really. Your questions were excellent, and answering them actually clarified some things about the novel for me. Thanks! I would add that my writing process is best described by E. L. Doctorow: "It's like driving a car at night. You never see farther than your headlights, but you can make the whole trip that way." For that reason, some of what I've said here about Bailout has a fairly high volatility index. But I think Alex would agree that the risks of any major changes are slim.
Read Kate's excerpt from Bailout, her novel in progress.