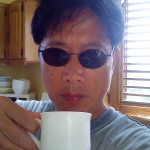 Khanh Ha's debut novel is FLESH (June 2012, Black Heron Press). He graduated from Ohio University with a bachelor's degree in Journalism. His new novel has earned a 2013 Leapfrog Fiction Award Honorable Mention. His short stories have appeared in Outside in Literary & Travel Magazine, Red Savina Review (RSR), Cigale Literary Magazine, Mobius, DUCTS, Lunch Ticket, The Mascara Literary Review, Taj Mahal Review, Glint Literary Journal, The Literary Yard, and will be forthcoming in the summer issues of Zymbol, Yellow Medicine Review (2013 September Anthology), The Underground Voices (2013 December Anthology), and The Long Story (2014 March Anthology). www.authorkhanhha.com
 Khanh, "Of Bones and Lust" from your novel Once in a Lullaby provides great depth into the narrator's background. Can you describe how the chapter sets up the greater narrative and what's to follow?
Once in a Lullaby is narrated by two voices in time parallel. Giang (pronounced Zhang), the narrator seen in "Of Bones and Lust," is a Vietnam war veteran, a former North Vietnamese soldier who defected to the South, and later a reform-camp prisoner following the fall of South Vietnam in 1975. After spending 10 years in a remote prison camp, as a drifter he finally settles in the Mekong Delta in the U Minh region, working as a caretaker in a roadside inn. Nicola Rossi, a deceased lieutenant in the U.S. army, is the other voice, the voice of a spirit, the omniscient voice. Through his voice we follow a search by an American woman–his mother–for the remains of her son, who went missing-in-action during the Vietnam War, where we come face to face with broken psyche, with barbarity, and with moral correctness. With his mother is her Vietnamese daughter adopted in 1974 when she was five years old. She's eighteen now when she meets 39-year-old Giang. He arranges for their stay at the inn and gets Miss Rossi a local man, another war veteran, who takes the American lady into the forest every day to look for bones. Whether she could eventually find her son's remains will be answered within the greater narrative. But it is always the bones. When you hold it in your hands, a fragment of bone, or a morose-looking skull marred with spiderweb cracks, you wouldn't know if it was a Vietnamese or an American bone or skull.
The excerpt includes rich descriptions and detail, not only within the scenes and settings, but also with regards to the Vietnamese landscape, and its culture and history (such as the French colonial rubber plantations). Does that continue throughout the novel? Are you consciously trying to inform readers who may have little understanding of Vietnam's turbulent history?
Let me answer the second question first. It's important that the American readers get a good grip of the Vietnam history, particularly from the haunting ugliness of the Vietnam War to the postwar Vietnam in the north as well as in the south. These insights are nuggets of information that the author consciously feeds his non-Vietnamese readers (and even the Vietnamese American readers) and they are like IV fluid that sustains the storyline throughout the novel.
The prose featured here is gritty and unflinching, vividly depicting in just this excerpt a number of unsettling episodes, from the serial-rapist headmaster finally getting his comeuppance at the narrator's hand, to the beheading of the American soldier at the excerpt's end. Do you find writing about such subject matter poses any special challenges?
The images and feelings for such scenes had long been crystallized in my mind by the time I wrote them. I had to tell them, and the only way to do it is through written words–the best I know how. It does take a lot out of you, though, when you write about things that command all your attention, for you do want your readers to experience them as deeply and intensely as you have felt them when you first came upon them either in a book, a documentary movie, or from a campfire story.
There's a very close, first person narration, yet throughout the excerpts the narrator goes unnamed. Is that simply coincidental, or does it signify something about how you want the story told?
In fact, the narrator's name will be known in Chapter 3 when he picks up Mrs. Rossi and her Vietnamese adopted daughter at the town's river port. Since many Vietnamese names are hard to pronounce for Americans, I took the liberty to give a phonetic transcription of his name in this interview (see Question 1) and took a different approach in the novel on how to pronounce his name.
At what stage is the novel? Do you have a time frame for completing the manuscript?
I started it almost a year ago and during the writing of this novel I was sidetracked by several projects which have given me the constant stop-and-go jerky motion and headaches. But I think I should be able to complete it by this year's end and hopefully to enjoy a lovely Christmas with my family rather than thinking about the novel all the time.
Thanks, Khanh. Is there anything else you'd like to share or explain to readers?
Thank you, Roland, for featuring my work in WIPs. Several episodes from Once in a Lullaby have been published or will be forthcoming in digital as well as print literary magazines/anthologies. These chapters had been slightly changed or modified to adopt the short-story format. You can read them in Mobius a story that touches the tender adolescent vulnerability of a boy toward a girl when he is injured on a bridge during an American bombing of North Vietnam; in Lunch Ticket the budding attraction an orphan girl has for a man; in Mascara Literary Review the psychosis of jungle warfare from an American point of view; in The Long Story an American middle-aged man who works for the CIA and falls in love with his Vietnamese-language teacher who is half his age, in a heartbreaking relationship that's doomed before it even started.
Read "Of Bones and Lust," an excerpt from Khanh Ha's novel in progress, Once in a Lullaby