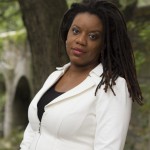 LaShonda Katrice Barnett's stories appeared this summer (2013) in the New Orlean's Review ("Hen's Teeth"), Gemini Magazine ("533"), and the Chamber Four Literary Magazine ("Ezekiel Saw The Wheel"). Additionally, her short fiction appears in numerous anthologies and journals such as Callaloo and the African American Review. Barnett edited the interview collections I Got Thunder: Black Women Songwriters On Their Craft (2007) and Off the Record: Conversations with African American and Brazilian Women Musicians (Rowman & Littlefield, 2014). She is the author of a story collection (1999). Her debut novel, Jam!, is forthcoming with Grove/Atlantic. She lives and writes full time at home in Manhattan.
Web: www.lashondabarnett.com Twitter: @LaShondaKatrice
LaShonda, "Road to Wingo" finds Edrow Bodine in the middle of a mid-life crisis of sorts, but one in which he's pretty much accustomed—a perpetual crisis of a mundane existence. He's "never felt in power or control like the king of his own castle—more like a serf bound to small town life." In the timeframe of the story he's "preoccupied," oblivious to his wife Mina's gall bladder problems while daydreaming about Katie, his unattainable object of desire and temporary diversion from his dreary days. Mina, to the contrary, is relatively content with their lot in life, and forges ahead despite the pain of everything. Will Edrow appreciate what he has a little more now that he's reawakened to reality by story's end?
I like this question a lot and wish I could be in a room with you posing it to readers because the answer(s), I think is really telling about the respondent. Also, to answer this means to think about Mina: what kind of love does she possess and give to her husband? Mina is not very demanding because she doesn't need to be, as you pointed out, she's content—especially with her tomatoes. So she can love freely and easily, which includes a lot of acceptance and tolerance. I think I identify much more with Edrow who certainly appreciates Mina to the extent that he's taken her for granted (the ultimate show of appreciation), but he wants more. I think that Edrow will continue to want more, my hope is that his definition of more will include Mina because something very beautiful could be borne out of that reciprocity.
You mention that Please Call Me, Baby is about the lives of everyday people and the little moments in life that lift them up and keep them going. "Road to Wingo" is a perfect example of that. What was the impetus of the project, and when did you realize a story collection would evolve?
In 2001, I moved to New York City and was struck by the narratives of everyday people, and their willingness to share them with little or no provocation. Of course, in Manhattan everyday people means the Pakistani cab driver who ends his mobile call in Urdu to tell you that your eyes remind him of his wife's, who is 7,000 miles away while you're en route to the esthetician from Kiev who started saving money in high school in order to move to America and work for a dermatologist, himself an immigrant from Africa who had to convince his mother—who had six sons— why she should allow him to leave the village. Stories abound everywhere, and contrary to popular belief New Yorkers are very friendly and quite the chatterboxes.
I didn't realize there might be a possible collection of stories until the fourth or fifth one was finished.
Can you briefly relate some of the collection's other stories? Do Edrow, Mina, or Katie reappear in any?
Edrow, Mina and Katie don't appear in the other eight stories, which each stand alone. In "Ezekiel Saw The Wheel," war in the Middle East causes a minister's crisis in faith; Aging lesbians Min & Gussie are victimized when a neighbor brings a stranger home for Christmas in "The Sin Will Find You Out," and a longtime Brooklyn resident remembers the children dealt a cruel fate by parents in "533," which can be read here for free: http://www.gemini-magazine.com/barnett533.html
At what stage is Please Call Me, Baby? Are you still writing stories for it?
Most of the Stories for Please Call Me Baby were finished years ago. I wrote them between 2001-2007. Right now I am wrapping up the last story, "A Woman, Like Fruit," started this summer. The collection's title comes from the novella which added to the eight stories will comprise the book. The novella—a love story about a black prostitute who falls in love with a Russian mob boss's woman—needs revision. I'm gearing up to do some ethnography among real streetwalkers in the South Bronx. Hunt's Point is a well-known Red Light district and I figure I can go there and pay a few women for their time, take them to coffee and turn on my tape recorder. I want to endow Rita (the prostitute in PCMB) with as much realness as possible, plus the facts do wonders for my imagination. Fact-gathering is the perfect antidote for writer's block, which I've never experienced.
In addition to your own writing, you've edited books featuring interviews with African- American and Brazilian women musicians and songwriters. How did those projects arise? Also, do you enjoy editing, and how do you find it compares to the process of writing?
I've always been very interested in creative process among women artists, a topic I explored in my doctoral thesis. The first book grew out of my missing the interview process—I had interviewed scores and scores of jazz musicians for the dissertation—and simply wondering what I might learn by talking to singer/songwriters I've enjoyed through the years. I pitched the second book on the heels of a trip to Rio de Janeiro where my love for Brazilian music grew exponentially after witnessing it firsthand on the streets, in the clubs, at the Samba schools. The third music book was a gift; it came to me. Professor Daphne Brooks, a Princeton scholar whose work I knew but who I did not know personally, was a fan of the first interview book, I Got Thunder, and recommended me to Wesleyan University Press when she learned of their new Music/Interview series. Coincidentally, at the time I corresponded with Wesleyan about the project I had been going out dancing a lot and was for the first time really listening to and intellectualizing hip hop, which is not a music I grew up listening to although the genre is exactly the same age as me. I'm currently wrapping up interviews with female rappers and vocalists for Drop The Mic: Women Hip Hop & Neo Soul Artists Sound Off On Creativity & Commerce (Wesleyan University Press, 2015). I enjoy editing but it is not the creative wonderland that writing is for me.
Thanks, LaShonda. Is there anything else you'd like to share or explain to readers?
Jam! my debut novel in which a woman launches a black newspaper in the Jim Crow Midwest is forthcoming with Grove/Atlantic, edited by my dream editor Elisabeth Schmitz, VP/Executive Editor.
Read LaShonda Katrice Barnett's "Road to Wingo," from Please Call Me, Baby, her story collection in progress.