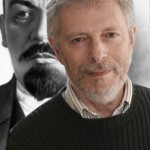 Mark Budman was born in the former Soviet Union. His fiction and non-fiction have appeared in such magazines as Mississippi Review, Virginia Quarterly, The London Magazine (UK), McSweeney's, Sonora Review, Another Chicago, Sou'wester, Turnrow, Southeast Review, Mid-American Review, the W.W. Norton anthology Flash Fiction Forward, Not Quite What I Was Planning: Six-Word Memoirs by Writers Famous and Obscure, Short Fiction(UK), and elsewhere. He is the publisher of a flash fiction magazine Vestal Review. His novel My Life at First Try was published by Counterpoint Press to wide critical acclaim. He co-edited flash fiction anthologies from Ooligan Press and Persea Books/Norton.
Mark, this excerpt from "Lenin: Red, White & Blue" is an engaging and provocative read. Funny too. What inspired the idea to transport Lenin through time in Rip Van Winkle-like fashion?
Being born and raised in the old Soviet Union, I grew up in the shadows of Lenin and Stalin. I prominently featured the latter in my previous novel My Life at First Try. Now, it was time for the former. They were friends and rivals back then, so I decided it's time for them come together to a computer near me and then to books near you.
 You grew up in the former Soviet Union. Have you spent time there since? What are your experiences with the people and the culture and how did that shape your work?
Not physically. When I left the country, a Red Army soldier pointed his AK-47 at me at the border crossing.  He had the eyes of a dead fish and smelled of stale onions. But his jackboots were so highly polished that I could see a small and distorted reflection of me. I told myself: never again. It's a different country now, but old prejudices die hard on both sides of the border. That said, I follow the progress of the country via the Net. I have many childhood and college friends to correspond with. Of course, the more connection a person has, the fuller is his world, literary or otherwise. For example, one of those Web Russian-language sites, Odnoklassniki, gave rise to an idea of a story by the same title, later published by The Literary Review.
It seems that novels and stories of political satire aren't as prevalent as they were at one time, unfortunately. What are your thoughts on novels of political satire? Have any influenced your own writing?
Political satire harks back to Gulliver's Travels and perhaps earlier. The Russians have a long tradition of it, when satire is masked as fables to circumvent the censors. While most people at least heard about Gulliver, modern satirical novels like Super Sad True Love Story by Gary Shteyngart might end up to be as timeless and enchanting. Or take Jason Heller's Taft 2012 with a premise a bit similar to mine, though I believe I came up with my idea first.  I published a story that became the kernel of the novel in the Exquisite Corpse back in 2000. As for influence on my writing, the first works that come to mind would be The Master and Margarita and The Heart of a Dog by Mikhail Bulgakov.
In its own way, the subject matter lends itself to comic turns, something you've taken advantage of in the prose. Did you plan to include much humor in the novel when you started, or is that something that evolved as the work progressed?
I think that life would be too depressing without humor. If you can't beat them, laugh at them. My literary work and humor are like the chicken and the egg: impossible to find which came first. Except that humor is cholesterol free.
How far along have you come with this novel? When might readers discover more about your Lenin's exploits in America?
Lenin and I, we basically are done. We are shopping for a publisher who knows the worth of a well-placed word, offbeat character and bizarre yet so logical situations.
Thanks, Mark. Is there anything else you'd like to mention or explain to readers?
Lenin lived, Lenin lives, Lenin will live. He escaped his Mausoleum and came to America to take on the world. Follow his adventures, dear reader.  Lenin for President in 2016!  All he needs is your help and a constitutional amendment to allow foreign-born to run for the Office. Vote for him.
Read Mark's excerpt from Lenin: Red, White & Blue