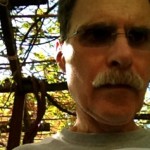 Randolph Splitter has published two books, the novella/story collection Body and Soul (Creative Arts) and a critical study of Marcel Proust from Routledge & Kegan Paul. His recent and forthcoming publications include stories in Chicago Quarterly Review, amphibius, Ducts, The Milo Review, and JewishFiction.net. He's also written prize-winning screenplays (Gotham Screen, Amsterdam Film Festival, Oaxaca Film Festival) and made short films. The Gotham Screen award-winner is a version of Bonobo Boy. He graduated Phi Beta Kappa from Hamilton College; earned a Ph.D. in English from the University of California, Berkeley; taught literature and writing at Caltech and De Anza College; and edited the national literary magazine Red Wheelbarrow.
Randolph, this is quite a chapter. The courtroom scenes are like an amalgamation of the recent Steubenville rape trial and the Scopes Monkey Trial of nearly a century ago. What inspired your work on Bonobo Boy?  Should the reader consider the court case and arguments having broader implications than simply relating to Ben individually?
I became interested in the subject of violence (and how to prevent it). I was even teaching classes with that topic. In the process I read a lot about nonhuman primates, and I discovered that bonobos are quite different from chimpanzees—but both are closely related to us.
Yes, there are broader implications. I'd like the reader to think about human gender roles, with bonobos as an alternative role model.
Although I'm firmly committed to realism—depicting what things are really like—I have a fondness for slightly outrageous ideas that stretch the bounds of plausibility but give us deeper insight into reality.
Have you put a lot of research into the novel? The legal aspects of the story are drawn quite convincingly in the excerpt, as are its references to anthropological and primatological matters.
Although I haven't done a lot of legal research, I have done a lot of reading in primatology, evolutionary psychology, and cultural anthropology. I think these fields can help us to understand many social problems, but I want to say that Bonobo Boy is a serious yet gently comic coming-of-age novel, not a social treatise.
Since this excerpt is adapted from the last chapter of your novel, can you describe how things arrived where they did. How far back does Ben's story go, and what are some of the storylines and narrative threads in Bonobo Boy?
The novel begins with a prologue in which a young woman doing primate research in west-central Africa rescues a baby bonobo whose parents have been killed by rebel soldiers for bush meat. She and the man she marries return to the States, where they raise the bonobo, now named Ben, as their own. Ben loses most of his body hair and learns how to speak, though he sometimes plays the piano with his toes. In most ways, he looks and acts like a human being, but subtle differences remain. Most of the book focuses on the crucial period of adolescence, during which many of Ben's encounters with girls and boys prove embarrassing, even traumatic. I think this will interest young adult readers as well as fully fledged adults, who have been through it all.
The premise is far-fetched, but the tone of the work—though at times marked by satire and humor—is for the most part serious. What were some of the considerations you gave to developing the tone and voice of the novel?
Yes, the premise is far-fetched, but of course it's not to be taken literally. It's a way of talking about gender, sexuality, aggression, and humanity—about what makes us human. My novel is light but serious, both funny and sad. I aimed at a kind of deadpan humor that would exploit the absurdity of the situation while highlighting the issues it raises. Humans have composed anthropomorphic animal stories at least since Aesop's Fables, some of them—like Poe's "Murders in the Rue Morgue" and Kafka's "Report to an Academy"—featuring apes. Questions of tone and plausibility keep coming up. Peter Dickinson's YA novel Eva, about a young girl whose brain is implanted into a chimpanzee, handles the plausibility issue by setting the story in the future. Benjamin Hale's The Evolution of Bruno Littlemore, about a talking chimp, uses a wonderfully intense, over-the-top first-person voice. Karen Joy Fowler's We Are All Completely Beside Ourselves, which focuses on a young woman who is separated from the chimp "sister" with whom she is raised, adopts a thoughtful and wryly comic tone. Eliot Schrefer's sensitive but tension-filled YA novel Endangered, about a young woman who rescues a bonobo during a civil war in Congo, also takes the point of view of the human but gives an even more detailed, close-up account of the bonobo's actions and apparent thoughts. My novel adopts the point of view of a sensitive, thoughtful (loosely bonobo-like) adolescent male but also employs the comic counterpoint of his Sancho Panza-like best friend Bao, a character who appears briefly in this excerpt.
Are you still working on the manuscript?
I've finished the latest rewrite, but I tinker with it occasionally. I've also written a screenplay of the same story, but it needs to be updated to match the novel.
What other creative projects might you have currently in the works?
I have several projects in the works, including one more rewrite of a book called The Ramadan Drummer, a novel about the clash of cultures and the (universal) search for meaning and connection. It too deals with the treatment of women and other gender issues.
Thanks, Randolph. Is there anything else you'd like to share or explain to readers?
I'd like to thank WIPs for giving me this opportunity and WIPs readers for giving me their time and attention. I hope they continue to seek out sensitive, thoughtful, intelligent writing.
Read Randolph Splitter's "Bonobo on Trial," from Bonobo Boy, his novel in progress.