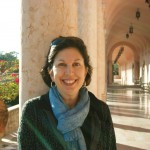 Rita Ciresi is the author of four novels (Bring Back My Body to Me, Pink Slip, Blue Italian, and Remind Me Again Why I Married You) and two award-winning story collections (Sometimes I Dream in Italian and Mother Rocket). She is professor of English and director of the creative writing program at the University of South Florida. She has received support from the Elizabeth Kostova Foundation, the Pennsylvania Council on the Arts, the Virginia Commission on the Arts, the Florida Department of State, and the National Writer's Voice. Her residencies include visiting writer at the American Academy in Rome, a fellowship to the Hawthornden International Writers' Retreat, and stints at the Virginia Center for the Creative Arts, Atlantic Center for the Arts, and the Santa Fe Art Institute. She has written the first and final drafts of most of her work at the Ragdale Foundation, an artists' colony located in Lake Forest, Illinois. Visit her website at www.ritaciresi.com.
Rita, in "The Art of the Hand," chapter one from The Doctor's Wife, Lydia and Mark make an unlikely pairing. Yet, before a large, curious, and admiring audience of med students, the seeds are planted of what (as the novel's title indicates) will become a long and lasting relationship. What span of these characters' lives are explored over the course of the novel?
The Doctor's Wife explores the impulsive nature of love. Mark and Lydia meet in August and the novel ends as they drive home from a Christmas party. I chose to tell the story in present tense so I can give the reader a better feel of being caught up in a whirlwind romance. But as I approach the finish line, I'm finding myself reluctant to let these characters go–so a sequel may be in the works.
Lydia's attention to detail as an illustrator makes her a fine narrator. For example, I love her opening take on Mark: "My father would call him a bruiser. He's the kind of guy who barks rather than talks. Pisses with the door open. Refers to women as tail when he's sober and pussy after just one drink. But insult his mother and he will punch out your lights." Did you intend to tell the story in the first-person through Lydia all along, or did you consider alternative points of view?
From the get-go, this has always been Lydia's story. Meeting Mark throws her off balance and leads her down a path she had no intention of taking. Only she can tell the reader why she is so drawn to Mark, and yet so reluctant to turn into the creature he sometimes secretly–and other times openly–wants to be married to: the typical "doctor's wife."
Although I enjoyed the challenge of using dual narration in a previous novel (Remind Me Again Why I Married You), I never considered using this he said/she said approach for The Doctor's Wife. Mark is too aggressive and out of touch with his feelings to function well as a point-of-view character. He also holds three big secrets that–as they are revealed–will change the course of Lydia's relationship with him. As for third-person narration: that just wouldn't work for this kind of highly emotional story.
In the chapter, Mark is "quite a character," and his wit and tongue-in-cheek bravado lend humor throughout the story. Yet he seems to be genuinely moved by the life-and-death encounters in the trauma ward and sensitive to the misfortune of others whose lives are plagued by the turmoil and violence that surrounds certain sections of New Haven. Do you find it a fine balancing act to develop such well rounded characters while still maintaining a lively and energetic narrative tone?
Both Lydia and Mark have preconceptions about one another, and part of the fun of writing each scene is showing how each continues to surprise the other (sometimes in shocking ways). The energy, I hope, comes from the way they push and pull at one another in conversation. Like most of my work, The Doctor's Wife is dialogue-driven. Dialogue is the best way to create humor–especially the sort of gallows humor I am going for in this story.
Lydia finds herself at the med school as part of a program whose goal is to "explore the intersection of medicine and art." That continues as a theme as the novel evolves. Can you explain a little bit about that and how you chose to focus on that aspect?
The Doctor's Wife is about two people who have a love affair with the human body. As a figure artist, Lydia is dedicated to capturing the beauty of the body, whereas Mark, as a surgeon, is fascinated by its sheer ugliness. By coming together as friends–and lovers–Mark grows to appreciate that art can be a potent medicine, and Lydia acknowledges that medicine is a beautiful but terrifying art.
This is going to sound strange–as I've been writing for almost thirty years now, so you'd think I'd know my own subject matter!–but not until recently did I notice that every romantic comedy I've written takes place, in part, in a hospital. In two of my previous novels–Blue Italian and Bring Back My Body to Me–I've addressed what happens to young people who get a diagnosis of cancer. And AIDS–or what was known in the mid-'80s as "gay cancer"–also played a role in my novel Pink Slip. So I see The Doctor's Wife as continuing to explore the theme of how our personal and professional lives–as well as our ability to express love–are impacted by the possibility that we could pass through death's door at a moment's notice.
At what stage is the novel? Has a manuscript draft seen the finish line?
I've started–and finished–almost all of my novels at what I consider my home away from home, the Ragdale Foundation. In summer of 2012 I was sitting on a porch at the Ragdale House when I first "saw" Lydia walking through the hospital with her beat-up leather portfolio in hand. I spent the rest of the residency filling up notebook after notebook with bits and pieces that became the first draft of The Doctor's Wife.
The first 100 pages are now (I hope!) airtight. The next 150 still are loosey-goosey. The ending was only in my head until this past summer, when I was lucky enough to get accepted into the Sozopol Fiction Seminars, and our workshop leader, novelist Elizabeth Kostova, challenged the participants to submit work that truly was in progress. This forced me to sit down and write the climactic scene of the novel. I got great feedback from Elizabeth and my fellow workshop participants. British novelists Andrew Cowan and Richard Beard also helped me draft a stronger synopsis that led to my relationship with agent Barbara Collins Rosenberg of The Rosenberg Group. I couldn't ask for a better advocate for The Doctor's Wife–thank you, Barbara, for restoring my faith in the lit biz.
Are there any other creative projects you're working on presently?
Like most novelists, I don't take much time off from the marathon to run the sprint. When I need or want to take a break, I dabble in nonfiction. Editorial work also helps clear my head. I'm fiction editor of the literary magazine 2 Bridges Review and recently was contacted by author Suzanne Fox to contribute as a writer and editor to a very exciting new web journal, Society Nineteen (http://societynineteen.homestead.com/), devoted to celebrating all things nineteenth-century. For a girl who loves Jane Eyre, Wuthering Heights, and Portrait of a Lady. . . well, I feel like I've died and gone to heaven.
Thanks, Rita. Is there anything else you'd like to share with or explain to readers?
Working on a novel for two to three years can be a scary business. In the back of every novelist's mind is the nagging question of when–and if–the book will see the light of day. So I'm grateful for this chance to share the opening chapter of The Doctor's Wife with a larger audience and would love to hear from readers via my website: www.ritaciresi.com.
Read Rita Ciresi's "Art of the Hand," from The Doctor's Wife, a novel in progress.