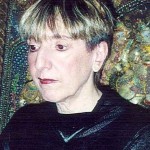 Rosalind Palermo Stevenson is the author of the novella "Insect Dreams" published by Rain Mountain Press. "Insect Dreams" has also been published in the anthologies:  Poe's Children (Random House/Doubleday, edited by Peter Straub); and, Trampoline (Small Beer Press, edited by Kelly Link). Her short fiction has been anthologized in Wild Dreams: The Best of Italian Americana (Fordham University Press), and has appeared in literary journals including: Web Conjunctions, Drunken Boat, First Intensity, Spinning Jenny, Skidrow Penthouse, Italian Americana, River City, Quick Fiction, Washington Square, No Roses Review, and others. Dramatic readings of her story "The Guest" have been presented for Share Our Strength and at the Italian American Writers Association (IAWA). The Guest was also the winner of the IAWA annual fiction prize and named story of the year by the cultural journal Italian Americana. Her work has received several Pushcart nominations, and her short story Kafka at Rudolf Steiner's is forthcoming as a chapbook from Rain Mountain Press. Rosalind lives in New York City where she is currently finishing a novel.
Rosalind, I really enjoyed reading about the land and people you describe in this excerpt from The Absent. Westward expansion and the idea of manifest destiny made for an exciting period in American history, one of discovery and promise, but also challenge and tribulation, depravity and brutality. What sparked your interest and made you choose to write about this period?
For me a work begins more with an impulse than an idea. An originating impetus. It's more in the body than in the mind. The thing that sparks the work for me is not really and idea or anything intellectualized. For "the Absent" the spark was a voice and a rhythm, and then a particular sentence that had come into my mind–though that sentence did not make it in the final draft. In any case the sentence was: Here is the way it was when I was taken, the murder of my father on the lower Red River. The voice, the rhythm, and that sentence became for me something that Bruno Schulz would call the '…ultimate raw material… the atmosphere, indicating a specific kind of content that grows out of it and is layered upon it.'
Of course this raw material of necessity must come from and be comprised of 'something.' For me that 'something' grew out of a combination of things that had been on my mind at the time, or that had impressed me or moved me in different ways. For example I had recently gone to an exhibit called "Spirit Capture" at the Smithsonian's National Museum of the American Indian, and a certain creative impulse was sparked by seeing it. I've always been drawn to the spiritual path of the Native Americans, particularly the Navajo and their view of life as effort toward achieving an inner state that is in alignment with the greater state of being of the cosmos. Around the time I began the book I had also stumbled on a very brief account of a young boy who had been abducted by Indians, who were shortly afterwards forced by the army to return him to his mother. And I had been excited by Michael Ondaatje's "The Collected Works of Billy the Kid" and Cormac McCarthy's "Blood Meridian," and the treatment they had each given to subject matter similar to that which had been bubbling up in me.
As I started to give deeper attention to 19th century America, I was also struck in a new way by how rich that time was in this country's history: a time when we were bringing an end to slavery; engaging mediums to call up the dead in our parlors; claiming the west and in the process eliminating a people and destroying a culture; working with the early forms of photography; beginning to think about and become active on behalf of the rights of women; seeing for the first time the canyons and deserts and mountains of the American west; and so on. I recognized these elements as the 'content that was growing out of the atmosphere' created by the voice and rhythm of that first sentence that had come to me and I knew it was my subject matter.
The story's narrator is a photographer on a surveying expedition, an important gig in those days and a rare opportunity to be among the first to document and share imagery of the beautiful canyons and rock formations of the Southwest. Today visitors could photograph the area with digital camera phones but back then photography was quite an undertaking, and it's interesting to read how you describe the narrator's thoughts on its process. Is there a particular reason why you chose this profession for the character? Is photography a special interest of yours?
Well, yes, it's true that photography is a special interest of mine. At one time I was taking a serious and more active interest in photography, both still and motion. For a number of years I made films, they were called underground films back then. I worked in sixteen millimeter, black and white. I now have all my films housed at the Anthology Film Archives (a wonderful place). But beyond that, I think it's true to say that photography has always been in my life. For a while when I was very young, three or four years old, my father had his own photography studio. It was a short-lived profession for him, but he maintained a strong interest in photography and was always taking pictures of the family and of nature.
There were other elements though, extraneous to my past experience, which contributed more directly to my choice of photography for my character William's profession. For me there is tremendous mystery in a photographic image. A kind of awe in the fact that an image can even be captured. And I have a real fixation on what a photograph does to the idea of time. The way it captures time, especially the way it captures a life in time. The way we can look at the dead in a photograph. The way the dead look back at us from a photograph, as they were then, as if time has not moved. Or the way we can look at ourselves at different points in time. The moment is gone, but captured. Or the way a place can be brought to us, the way a photograph can enable us to see something like the White House Ruins at Canyon de Chelly, and marvel.
Mary Gordon used to talk in terms of writing out of your excitement. Marilynne Robinson talked in terms of following your fascination. I worked with these two great writers for several years at the Summer Writers Institute (another wonderful place) directed by Robert Boyers at Skidmore College in Saratoga, New York. In making William a photographer I was following my excitement and my fascination.
There were practical reasons for the choice as well. Photography was a profession that would take him out west, though he lived in the east. It was not unusual for a man at that time to have his home and family in the east, but spend a year or years away from home in the west; there were some very famous early photographers who did that, like Timothy O'Sullivan, who was one of my models for William.
The narrator's wife, family, and home are in Philadelphia, which is another setting in the novel. What is the balance of scenes or sections between locations? Does it shift over the course of the narrative?
"The Absent" does go back and forth between the east and the west in terms of 'place.' It is perhaps weighted a little more towards the east. I don't know that I can say the balance shifts over the course of the narrative. But even if the actual word-space is weighted a little more towards the east, the psychological space evens it out. In addition to the relationship of the actual placement in space between east and west, there is the relationship in the book between interiority and exteriority. The narration is largely interior. It is a consciousness moving through life. Throughout the book that consciousness moves in and out of at times greater and at times lesser degrees of interiority. And that consciousness itself, I would say, is absorbed in equal share with east and west.
The narrative form of this excerpt intrigues. Single-line paragraphs, a character referred to simply as Mr. W_______, and the novel's narration interspersed with the narrator's letters home, which acts as a sub- or slightly altered text. Are you utilizing a variety of forms and styles throughout the work?
The narrative form of all my work might be called hybrid. My choice of narrative form for "The Absent," like its subject matter, was arrived at not so much as a conscious device, but as a necessary instrument of the work. The way the words appear on the page is intrinsic to what is being expressed and absolutely necessary, as presented, for a correct reading of the work. We are receiving the 'sense' contained in this book through the narrator's consciousness. The form reflects that consciousness and the way it shifts. In working with a fragmented thought process, as this book does, there has to be the feeling of inevitability in each shift, from one line to the next, from word to word, and across the spaces. The narrative form, or forms, I have utilized, and the way the work is presented on the page, are in the service of that sense of inevitability. When I bring information in by using different forms at different times, it is not simply for the sake of bringing information in, nor is it in the interest of 'form for form's sake,' but for the sake of achieving a full expression of the consciousness of my narrator.
I've always loved the Southwest, the Four Corners area in particular. I didn't really know the region's history as well as I felt I should, so I recently read Hampton Sides' Blood & Thunder: The Epic Story of Kit Carson and the Conquest of the American West. It's full of wonderful stories that relate to every perspective, and is imbued with exquisite detail. The Absent is fiction, giving you artistic liberties, but is still largely grounded in fact, no? What type of research and resources have you turned to in developing the manuscript?
Yes, like much of my other work, "The Absent" is fiction grounded in fact. The research effort was significant. There was almost no aspect of the subject matter of my book that did not require me to do research. I used libraries, bookstores, the internet, museums, travel, interviews, telephone conversations with various people that I tracked down, and all kinds of odd and unexpected sources. My research covered the subjects of Spiritualism; early photography, particularly the wetplate process in early photography; biographies and critical studies of the early photographers of the west; 19th Century medical practices; the mechanism and language of bloodletting; the Mummers of Philadelphia; the American fur trade; abolitionism; the civil war; wedding protocols in 19th Century America; funeral protocols in 19th Century America… and the list continues.
I also made many trips to Philadelphia, spending 3 or 4 days there each trip. Thanks to a friend who lives there, I found and stayed in an Inn preserved and restored from Colonial times that I used as a model for my narrator's family house. I used the Philadelphia Historical Society to read countless diaries and journals. I spent time in and acquired permission to photograph in the Mütter Museum in Philadelphia (The College of Physicians) with its collection of preserved early anatomical specimens and medical instruments. I spent many hours in the International Museum of Photography here in New York City. I spoke by telephone to a contemporary photographer in Germany who works in the old wetplate process. His name is Quinn Jacobson and his work is great. I spoke to a Navajo guide at Canyon de Chelly. I went to Santa Fe. Again, the list continues.
The only other thing I would like to say about the research is that the scholarship involved in this kind of research effort is not only in the interest of 'grounding the work in fact.' It is that of course. But I think more importantly it is what enables me to 'imagine' myself into place, time,  people, and situations. As the brilliant writer Marguerite Yourcenar writes in her reflections on the compositions of The Memoirs of Hadrian:  "One foot in scholarship, the other in magic arts, or more accurately and without metaphor, absorption in that sympathetic magic which operates when one transports oneself in thought to another's body and soul."
 Thanks, Rosalind. Is there anything else you'd like to mention or explain to readers?
Just to make a final comment about language. And what is writing if it is not language? Working in the 19th Century gave me the opportunity to use language in ways I would not have otherwise had. This is not to say that I was striving for an exact replica of the speech patterns of the 19th Century. But even in relaxing any strict adherence to 19th Century speech, I was able to move freely in and out of the more formal syntax of that time, and to use language in a way that had a very specific relationship to the work and somewhat of a special mission in that regard. So in the end the artistic liberties I wound up taking were not so much in terms of historical facts and details (I believe I was a bit of a stickler on these), but rather artistic liberties of language, of the words themselves.