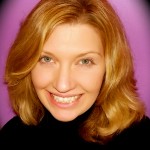 Sarah Normandie is a writer. She's been making up stories since age 2, when she figured out how to record her stories into her mother's cassette recorder. To date, Sarah is a law student at Western New England School of Law where she is a merit scholarship recipient, Phi Alpha Delta member, and Cali Award winner. She has a Masters in early childhood development, a Bachelors in child psychology, and several years of teaching and education management experience. Additionally, she has been a student in the UCLA Writer's program, where she penned her first novel, The Broken Girl.
Sarah is a frequent contributor at 5MinutesForMom.com and a freelance legal writer/researcher. Her early childhood articles have been featured by the National Association for the Education for Young Children and utilized as teacher trainings modules for early childhood professionals across the country. When Sarah's not hard at work writing her next novel or studying law, she is a mom to two amazing kiddos. She is happily married to her high school prom date.You can find more information about Sarah and her writing at http://redroom.com/member/sarah-normandie or contact her at sarahnormandie@yahoo.com
 Sarah, The Broken Girl's first chapter is rife with tension, drama, and intrigue. Not just the present situation with Kenny and the car crash finale but also with references to Anna's past and future—her own abusive upbringing and her unborn daughter. Without giving too much away, can you briefly discuss what's to follow?
Complications from the accident threaten Anna and her baby. Anna's struggle to survive, and to save her baby is paralleled with scenes from her own abusive childhood. Anna must face her childhood to truly live.
Abandoned by her Vietnam veteran father, child Anna lives under the ruling thumb of her mentally ill grandmother-a woman on the edge of bipolar and borderline personality disorder. Anna's mother, incapable of being the mom Anna needs, splits her time between boyfriends, popping pills and under Grandma's psychotic control. Things take a dramatic turn when Anna's Aunt Sally is diagnosed with Hodgkin's Lymphoma and Anna's grandfather; the "family glue" is so devastated, he has a stroke. After Grandpa's death, Anna meets Fanny- Grandpa's long lost 83-year-old spitfire sister who reveals a shocking family secret that changes everything. While young Anna fears for her safety and sanity, adult Anna fights to survive and save her baby. Mixed with present day family drama as Anna's family fights by her bedside-the past and the present come together as adult Anna discovers her own strength by letting go of her painful past and finds her own happy ending.
The Broken Girl is a universal story about forgiveness. Set in the eighties, nineties and present day-this fresh take on a coming of age novel questions the role one's childhood has on the adults we become. The Broken Girl touches on real issues-mental illness, Alzheimer's, child abuse, cancer, prescription drug abuse, divorce, adoption-and more.
Most importantly, The Broken Girl will reach out to everyone. It's about broken families and how to put the pieces back together. It's about the day you realize your parents weren't born super heroes. It's about knowing better and doing better. It's about letting go.
The descriptions and references to the social welfare system and Anna's role as a case worker are convincing. Your own background includes degrees in child psychology and early childhood development, as well as your current studies in law. Does your authorial insight come from this academic background, or from research, job experiences, etc.?
My insight into the social welfare system stems from a combination of job experience, academic background and research. I worked for five years as a Head Start teacher, and two years as a Head Start center director. As a teacher for Head Start, I worked in Willimantic, CT, a community once featured on 60 Minutes as "Heroin Town." Part of my job was to conduct home visits for the children in my class. Many of the children were involved with the Department of Children and Families, faced homelessness, and had incarcerated parents, parents with various mental and other disabilities, and parents facing alcohol and drug addiction. At that time, I was a 21-year-old blonde girl armed with nothing but a clipboard and a passion for helping children and families. I went in and out of apartment complexes that police officers didn't go without backup.
I never regretted that experience. I grew up with the children on my caseload. Many were in my care as young as 6 weeks until they were 3 or 4 years old. I rocked them, cheered them on the potty, taught them to write their name, and pointed out which toys sank or float in the water table. In return, they taught me acceptance, patience, and how to change a diaper properly. They prepared me for becoming a mother, teaching me to love unconditionally. The experiences I had with their families and my fellow staff was equally life changing.
However, I won't sugar coat it. It was really hard. There were times I went home crying, haunted by their stories. When you work in the field, you learn that things are more complicated than many would like to believe. Poverty is hard. It can eat away at people. Often, many of these families have faced generations of abuse. Also, at that time I was struggling to support myself by working full time and going to school full time. Sometimes I felt like I was just one wrong turn away from being in poverty's hold.
During my commute home, I would meld their stories in my head. The Broken Girl was born during those long commutes. It took me five official years to write The Broken Girl, and during that time I was a public school teacher in more "wealthy" town. However, The Broken Girl began to form in my mind during those days at Head Start. Certainly, the degrees in early childhood and study of law have helped solidify those experiences in my writing.
Also, as I was writing The Broken Girl, my research led me to several cases of social workers that were murdered while conducting home visits. It also led me to the death of a six year old girl who was shot by her father during a supervised visitation session in Northeast, Connecticut, the setting of my novel. The dangers social workers face is not given the attention it deserves. I wanted this novel to expose that danger, and also make Anna a hero, surviving that trauma.
The narration is quite strong in this excerpt. How did you decide to let Anna tell the story rather than use the more traditional third-person? Have there been particular challenges in doing so?
Honestly, it just felt natural to let Anna tell her story. I have at times considered changing it to third person, but it never felt right. I wanted the readers to get inside Anna's head, and dig deep into her heart. Her story is complex, and her voice is strong. Telling it from her perspective felt like the most natural and right thing to do.
You were selected to complete a novel writing mentorship under the guidance of Caroline Leavitt. How did that come about, and has she been involved in the work you've done on The Broken Girl?
I began as a student in the UCLA Writer's Program, taking general fiction writing classes. The program is online, affording me the opportunity to work with many talented and dedicated novelists from around the world. I was introduced to Caroline Leavitt as I progressed in my fiction writing courses.
Caroline Leavitt is truly the best mentor any writer could ask for. I began working with her during my novel writing courses, followed by my acceptance into her novel writing mentorship. Caroline was instrumental in teaching me how to dig for my voice and write honestly. She was also instrumental in helping me structure my novel. Anna's story is complicated because it bridges her childhood to her adult life – something that is essential to her story and character development. Caroline believed in that concept from the start. I've written so many drafts of The Broken Girl, I've lost count! Caroline helped me shape my story, but most of all she taught me to never give up.  She's also a really kind, funny, brilliant person and novelist. I am forever grateful for her feedback and encouragement.
I am also grateful to the many other writers who have continuously supported me on Facebook and in offering their critiques and help along the way. I've worked with so many wonderful faculty at the UCLA Writing program including author Leslie Lehr, who inspired me and helped teach me about novel structure.
What progress have you made on your novel manuscript? What are your next plans regarding the project?
Do I dare say finished? To date, The Broken Girl is the most complete it has ever been. Although, I don't think a writer's work is ever complete. I've talked to authors that say they are still editing as they read aloud on book tours!
I am currently seeking agent representation. I want to build a career in writing, and I'm ready to do the work to make that happen. I feel that so many people can relate to the heart of this novel, and I want to share that. I'm also working on my next novel, The Devil Next Door. Like The Broken Girl, The Devil Next Door is also about child abuse and is set in a small New England town. However, it reads more like a legal thriller than The Broken Girl. It's about a 17-year-old boy caught up in the juvenile justice system, at the mercy of his probation officer who is sexually abusing him.
Thanks, Sarah. Is there anything else you'd like to mention or explain to readers?
I am so thrilled to be published in WIPs. Thank you so much for this opportunity! The Broken Girl is a story that will resonate with you for a long time. I hope your readers enjoy this piece.
Read the opening chapter from The Broken Girl, Sarah's novel in progress.