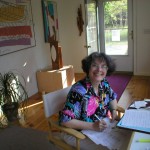 Sharon Leder is currently the program director of the Teichman Art Gallery on Cape Cod.  She has taken workshops in fiction writing with Kathleen Spivack, Elizabeth Rosner, Kaylie Jones, Paul Lisicky, Sally Gunning, and Eileen Pollack. She is Professor Emerita at Nassau Community College, Garden City, New York, and has taught within SUNY the subjects of women's studies, literature, and Jewish Studies.  She has authored "The Language of Exclusion:  The Poetry of Emily Dickinson and Christina Rossetti" (with Andrea Abbott), has co-edited with Milton Teichman "Truth and Lamentation:  Stories and Poems on the Holocaust" and co-edited with Ines Shaw and Betty Harris "Women, Tenure and Promotion."  After thirty-seven years of teaching, she is now writing fiction and poetry.
Sharon, here in the first chapter of We All Fall Down, the father is a key figure in absentia.  Does that fact continue as the novel progresses, even after his death?
We actually meet Sara's father Josef in person in the very next chapter and also in subsequent chapters that are flashbacks to the 1950s, when Josef has been forced against his will to reveal his fifteen-year heroin habit to his family.  Sara, as an eight year old, is almost immediately enlisted by her grandmother into the family's struggle to help her father admit his problem and his abusiveness and to find treatments and cures.  Sara's relationship to her father—and its emotional effects on her–alter as she moves from childhood to adolescence and witnesses his increasing drug dependency and loss of self-esteem.  When Josef dies, Sara is driven to discover from her mother how he got hooked on heroin. Thus, we meet Josef again in scenes that are flashbacks to the late 1930s and 1940s when the once-wholesome teenager is led to addiction by the clubroom culture that sprang up in New York City during the Depression years leading up to World War II.  The novel also concludes with Sara's father.  Sara imagines having the conversation she never had with her father about his addiction.  Their conversation takes place on the day he died and is Sara's way of finding out whether or not he committed suicide.
The scenes here really seem to capture Brooklyn in the early sixties (as well as what it must have been like to grow up in its Jewish culture). How did you decide to set the story during that period and location?
The 1960s are a time of perfect convergence for the influences on Sara and her father as  characters.  For Sara, the civil rights, anti-war and hippie movements are creating alternative cultures that open her to liberal attitudes towards drugs, while on the other hand, the women's movement is sensitizing her to issues of domestic violence like those in her own family.  For Josef, the 1960s are a time of police crackdowns on heroin addicts and continuing antiquated attitudes towards addicts as criminals.  Methadone is only just beginning to emerge as a treatment.  In the meantime, pressures on Josef are increasing as his family insists that he end his habit at the same time that his business as a private Kosher butcher is being threatened by the expansion of supermarkets that sell Kosher products.
Williamsburg, Brooklyn is the location of the narrative because of its history of ethnic diversity, including Jewish immigrants, since the beginning of the twentieth century.  The ethnic diversity is especially relevant to Josef's experience in the pre-war years because as Kosher butchers, his parents became targets of anti-Semitic slurs which in turn affected Josef's attitude towards the land of his parents' dreams. Sara views Williamsburg as offering insufficient opportunities for her education and growth, while her mother has always hoped to move her family to the suburbs.
The excerpt is in ways a coming-of-age tale regarding Sara. She's accomplished a great deal at her young age and made her mother proud. But when she's punished at the school for the see-through blouse and her mother lectures her afterward, she tells her mother that tramps are "just girls who want to be loved." Is the same true for Sara?
Throughout the novel, Sara is plagued by the fact that her father was not able to end his addiction.  As a child, she experienced his illness and the time he spent in hospitals, sanitariums and prison as a rejection of her and her siblings. His physical bullying of her mother when he needed a fix was just another tangible reminder to Sara that he didn't or couldn't value his family strongly enough.  He was wrapped up in his own world and out of control, with little time left to show loving feeling towards her.  She is extremely attuned to other girls who are starved for affection from their dads.
There's a lot of skirting around the particulars of the father's drug addiction in the narrative (where it's referred to alternatively as his "illness/problem/troubles/situation"). Is this because Sara doesn't understand the specifics, or is perhaps fooling herself? Was it such a "shandah" that it couldn't be tackled head on for what it was?
In this chapter, Sara promises her mother to keep the details of her father's addiction and his moving out of Williamsburg to live with his parents in Queens a secret.  Sara complies out of respect for her mother's wish to hide the shame, the shandah, brought to the family by her father's addiction.  Sara feels more unloved than she does ashamed, but she refers to her father's addiction as an illness, a problem, a situation, mainly as a way of honoring her mother's request.  Sara wants to tackle her father's problem head on but has never been able to bring herself to speak with her father directly about his addiction.  While Josef was alive, her mother and grandparents did not wish to discuss Josef's addiction with anyone outside the immediate family, and after his death, they wish to perpetuate honorific myths about him.  Sara feels strangled by the family's denial and in the ensuing chapters finds a way to shake loose as much of the true story as her mother is willing to tell.
What progress have you made on your novel manuscript? Have you set any self-imposed deadlines for completing a draft, undertaking rewrites, etc
In my photo, you see me several years ago, when I was working on the first draft of We All Fall Down.  I have completed one-third of my second revision and have promised myself to finish the manuscript by the end of the year.
Are you currently working on other current creative projects in addition to the novel?
I have several other writing projects waiting for attention–a collection of original poetry, a book on Jewish women's journeys towards increased Jewish identification, and an edited anthology on the conflicts that emerge between women's studies and Jewish studies when they interact in the university.
Thanks, Sharon. Is there anything else you'd like to mention or explain to readers?
I would be happy to enter into conversation with readers about We All Fall Down or any other topic related to writing novels based on family stories.
Read Sharon's chapter, Private Family Business, from We All Fall Down, her novel in progress.