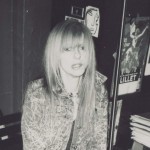 Stephanie Dickinson, raised on an Iowa farm, now lives in New York City. Her novel Half Girl (winner of the Hackney Award given by Birmingham-Southern) is published by Spuyten Duyvil.  Corn Goddess (poems),  Road of Five Churches (stories) and Straight Up and No Sky There (stories) are available from Rain Mountain Press. Her story "A Lynching in Stereoscope" was reprinted in Best American Nonrequired Reading and "Dalloway and Lucky Seven" and "Love City" in New Stories from the South, Best of 2008 and 2009. She is the winner of New Delta Review's 2011 Matt Clark Fiction prize judged by Susan Straight. Her Port Authority Orchids was a 2012 finalist for the Starcherone Book Prize for Innovative Fiction.
Thanks for sharing this chapter with WIPs, Stephanie. It's powerful and haunting. How did this novel evolve?
On July 26, 2006, Jennifer Moore, age 18, was abducted after a night of underage drinking and taken by small-time pimp, Draymond Coleman, to a seedy Weehawken hotel room that he shared with his prostitute/girlfriend, 20-year-old Krystal Riordan. During the early morning hours, Jennifer was raped and strangled by Coleman, while Riordan looked on.  The entire evening had been one of poor judgment that began when Jennifer's friend drove them in her mother's car to Manhattan from New Jersey, to go clubbing. The girls parked in a No Standing Zone and when they returned, discovered the car had been towed. The Impound would not release the car to the intoxicated girls. Jennifer's friend passed out and EMS spirited her off in an ambulance to St. Vincent's Hospital. Jennifer, in her white mini and black halter, walked off into the night and ended up on West Side Highway with Coleman stalking her.
The tabloids had a field day with the story—the underage girl/victim, a hooker, rape and murder. I was stunned by the utter waste and injustice of it and filled with grief for Jennifer. Inebriated, doubly vulnerable, she made the fateful decision to walk off into the night.  I, too, made bad choices at that age, ones that led to lifelong repercussions. It's a subject I explore in my autobiographical novel Half Girl, published by Spuyten Duyvil.  A 19-year-old boy throwing a Thanksgiving party in his parent's absence brandishes a shotgun and shoots an 18-year-old girl in the face. Those impulsive teenage years are loaded ones, crucial with consequences. Some mistakes are forever.
Fox News blamed the victim, pointing out Jennifer's scanty attire as if a halter top had made the teen deserving of her rape. What should have been a teenage misadventure, an impulsive flirtation with the forbidden, led to ultimate consequences. And then there was the prostitute/girlfriend, Krystal Riordan, the sad-eyed girl who watched her boyfriend strangle Jennifer. Bloggers portrayed Draymond Coleman as a force of nature, bestial, hardly human and uninteresting, while they pilloried Krystal as if she were the murderer.
This then was the genesis of Love Highway, a novel-in-progress.  I knew I wanted to explore the collision of the different worlds inhabited by two young women close in age. I began by writing a short story "First Love West Side Highway" told from the murdered Danielle's point-of view. I thought I'd finished with the subject. But later I wrote "The Girl Who Watched" told from the prostitute Tabitha's point-of-view.  I had other projects but kept returning to the story and adding to it. Finally, I realized I had a novel on my hands.
You've done a lot of research for Love Highway. Do you feel like an investigative journalist as much a creative writer at times?
I love to read and I'm a promiscuous reader. Fiction, nonfiction, poetry, political blogs, fish encyclopedias. I'm interested in the flora and fauna of whatever place I'm writing of. For example, I love reading about the lives of seventeen-year locust and the incredible upside down existence of sloths. To me it's important what kind of bird might be flying in the sky of the place I'm writing of. My work has always been about place. So research feels like filling the tank or surrounding yourself with the world, the color, the mood, the texture, more than the hammering down of facts.
Every writer is their own investigative reporter, but Love Highway took some turns I did not anticipate. All my past research has been via books or internet-based and that's how I began this novel. Reading every on-line article or blog I could find from the tabloid Daily News to regional papers. I perused essays and editorials and comment sections and amidst the chaff of name calling I found nuggets. I absorbed the milieu.  The hotel where the murder took place was the notorious Park Avenue Hotel in Weehawken.  It has since been torn down but lives on in cyberspace. HotelGuide.com was an invaluable resource with seventy guests commenting descriptively on the horror that this hotel was.
The below was written just two months before the murder:
"Our trip was in May of '06. We were going to stay one night for a convention. When we got there we opened the door and were shocked. There was what looked like a bullet hole in the door that hadn't even been covered up. Not to mention the mouse droppings and bugs everywhere."
About six months ago, I wrote to Krystal Riordan who is serving a 30-year-sentence at the Edna Mahon Facility for Women in Clinton, New Jersey.  I had no idea what her response would be. I sensed from the anguish I saw in her eyes on the cover of the Daily News that she wasn't hardened. I sent her Half Girl or rather ordered it for her as prisoners can receive books only from the publisher or Amazon. She said she stayed up all night reading it. I discovered a more intelligent and sensitive young woman than I expected. She'd been an extremely talented basketball player in high school. Yet she had numerous opportunities to save Jennifer's life. The best she can offer is. "I didn't think I could live without him." Or "I was weak-minded." But the fictional Tabitha is not Krystal. For a novelist, research can present a dilemma with its embarrassment of riches. I was already committed to a fictional character when too much information began flooding in. This is the difference between writing fiction and nonfiction. The fictional world renders its truth emotionally.
The narration in the excerpt is rather complex. It homes in closely on Danielle's thoughts, even as she seemingly dies and becomes a spirit, weaving between past and present with a surreal quality. How did you develop the voice of the novel?
I was influenced by Joyce Carol Oates' handling of Chappaquiddick in her novel Black Water.  She took the legendary incident of Ted Kennedy driving his car into a tidal channel with his passenger Mary Jo Kopechne. The car sank until the roof was resting on the bottom.  While Kennedy managed to free himself and swim to safety, Mary Jo died.  I had read a number of non-fiction books on this incident before I read Oates' short novel. I was mesmerized by the lyricism of the writing. Astonished at the power of the novelist to illuminate both the event and the human heart, to make the tragedy more real and actual than the fact-based journalist. Oates' narrator is Elizabeth and for most of the novel she is in the submerged car while her consciousness moves lyrically back and forth in time and place.  Black Water showed me a way the narrator could inhabit that limbic zone between life and death. I wanted Danielle to be present throughout the novel even if the murder had already happened.  Much of my work is too chronological and I wanted this narration to float and wander. The spirit Danielle and the living Tabitha also interact.
Recently, I read an old New York Times review of Black Water, which accused Oates of sensationalism. "Is every fictional treatment of a real-life crime or scandal, by definition, an "exploitation novel"? the reviewer asked.  "Not necessarily. Sometimes the raw tabloid material is transformed — by boldly imaginative storytelling — into an absorbing, freestanding parallel universe." The reviewer then cited Don Delillo's Libra and E.L. Doctorow's Book of Daniel as those parallel universes. I'm quite aware of this tension in using real-life story between exploration and exploitation.
The flashbacks to Danielle's experiences at the farm sanctuary, taking care of vulnerable creatures, provide quite a contrast to the violent fate she meets. Was there a particular reason you chose the farm sanctuary as a vital part of her background?
I once read that a writer's relationship with the animal kingdom is gender-biased.  That a woman writing about an animal so empathizes she can not help but associate its fate with her own. I'm sure that generalization has no validity but it's one of those oddball statements that I've always remembered. In the U.S. apparently young women are the largest statistical cohort of vegetarians and their reason for not eating meat apparently flows from a desire to not harm animals.  I was raised on a farm and know there is an incredible cruelty inherent in industrial farming. It's been called an animal holocaust and the treatment of these feeling beings is almost too painful to contemplate so most of us don't.  In Love Highway, Danielle wants to study to be a veterinarian so she's interned at Farm Sanctuary.  Richard Rhodes writes at the end of Masters of Death that genocide will only end when we stop slaughtering cattle. I wanted the purity of Danielle's love for those vulnerable creatures to shine out of the darkness.
At what stage are you in writing your novel? Any thoughts on when the manuscript might be completed?
I'm about three-quarters of the way through and am writing the last chapters of Tabitha's narration, which follow her through trial and into prison.  Lately, I've been concentrating on the interrogation chapters and am using the device of the hotel security video. Tabitha can see herself like a jellied fly trapped in the tunnel-like hallways of the hotel. The Park Avenue is a kind of netherworld for Tabitha as the dumpster is for Danielle. In writing the police interrogation I researched the Reid Technique used pretty extensively in North America.  Before working on Love Highway I'd seen many cinematic police interrogations but never really understood how certain techniques were being used to obtain confessions.  There is the cliché of good cop/bad cop and yet it too seems to be common practice.  I initially baulked at having to write my way into this  too familiar  landscape, but later, found it fascinating.
Are you currently working on other  creative projects in addition to the novel?
I'm working on a book-length collection of prose poems (or flash fictions) that are structured around an imaginary interview with the iconic actress Jean Seberg. I was inspired by Kate Braverman's imagined interview with Marilyn Monroe. Seberg was an Iowa native as I am and raised in Marshalltown, a community not far from the farm where I grew up. I'd always been fascinated by her style. The interview is divided into question and answer sections and there's a sense of completion when one is finished. Roland, you published one of these. While a novel feels endless and is such a commitment (especially when one works a full-time day job) it helps the process to have another creative project where there is a little completion.
Thanks, Stephanie. Is there anything else you'd like to mention or explain to readers?
I'm extremely interested in how other working writers especially those not in academia keep the holy flow going.  At times it feels like the gods conspire against this burning desire to keep writing, to keep imagining. There's a destruction of solitude and meditation in our culture.  I find myself craving silence. How are other writers coping with all the literal and metaphorical noise?
Read Stephanie's Work in Progress  "No Man's Land"