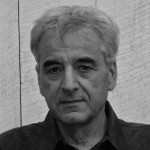 Vincent Panella grew up in Queens and now lives in Vermont. His stories have appeared in recent issues of The MacGuffin and The Paterson Review. Two others will soon be published in Voices in Italian Americana and Carbon Culture Review. Three of his books are The Other Side, a memoir subtitled Growing up Italian in America, Cutter's Island, a novel about Julius Caesar which won a ForeWord prize in 2000, and Lost Hearts, a story collection published in 2010. After graduating from the Iowa Writer's Workshop he worked as reporter for the Dubuque Telegraph-Herald, then as a writing teacher at Vermont Law School. He can be reached at vincentpanella.com
Vincent, in "Canada," Bobby finds himself up in Vermont in limbo, his car with a blown head gasket, spoiling his plans. He's used to trouble, of course, and is careful in what he reveals to the inquiring Rebecca. She's known plenty of trouble and pain herself, what with her cancer and a restraining order on her combustive ex. As JB realizes, they will inevitably connect. For Bobby, Rebecca's care and affection are restorative. Should the reader expect Bobby to shelve car repairs for the foreseeable future?
Bobby is ready for the next step. I held that out in the end when he reluctantly accepts the most painful parts of his experience with the first and only male lover in his life. Canada ends in hope, not despair – it can't be any other way. Rebecca is the angel who shows Bobby how to laugh at the naiveté that once shamed him. I tried to render that ending without being gamey or ambiguous and in a way that gives the reader something to think about. This is one of the pleasures of fiction that I aim for in my writing.
To Bobby, Canada is as much an ideal as a destination. Chance had said: "There's more freedom up there," and Bobby clung to the idea that they'd map out a life together there. Perhaps he'd become more determined to do so on his own after he'd served his time, if only to prove something to himself. But Rebecca, with all her scars, shows him another "Canada." Is Bobby searching for a place to call home, or is it something else he's seeking?
Canada has been a refuge for disaffected Americans since the days of Sitting Bull and The Underground Railroad. Chance holds out that freedom of thought and action and Bobby is taken in, only to be deceived and insulted for his innocence. Yet Canada still holds the prospect of tolerance and relief from guilt and the past. When he returns to Jackson Heights after serving his time, Bobby can barely recognize the old neighborhood. The ethnic base is no longer European, the schoolyard has been downsized and paved over, the alcove where he met with Chance has disappeared. Why not head for Canada when there's nothing left at home? Why not bring closure to the most formative event in his life and perhaps experience the freedom Chance held out? Once he's stuck in White River with a broken down car, but also with a job and a place to live, he has time to tell his story to JB and in more detail to Rebecca. As they come to know each other he senses that she has her own "Canada." There's a point in the story when Bobby wants to "kneel before her and bury his face in those drab woolen trousers," not as a sexual act, but to submit to her wisdom. By accepting her own setbacks, even defying them with a tattoo of a maple tree to decorate her mastectomy scar, Rebecca has done what Bobby wants to do. She represents home, a mate, and a perspective.
The story excerpted here is based, in part, on the narrative of your novel White River Junction. Do the scenes and events in "Canada" also take place during the course of that novel?
Almost all the scenes in Canada take place in the novel but they're spaced out for different narrative demands. One is a slower development of the relationship between Bobby and Rebecca. The difference between the story and the novel requires some explanation. In Canada I stripped away the darker story lines that weigh upon Bobby in White River Junction. These story lines emanate from the real life sources of the novel: gay-bias murders in a Queens schoolyard, and a Supreme court ruling in Arizona v. Fulminante where a government informant coerced an inmate into a confession. The challenge of the novel was to bring these two sources to another level, not only by portraying Bobby and Chance as lovers and not simply gay bashers, but also by plugging Bobby's situation into the fact pattern of the Supreme Court case where an informant's coercion was ruled 'harmless' and the conviction upheld. Bobby in White River Junction has taken his case all the way to the Supreme Court, where he lost in a 5-4 decision – exactly as Fulminante lost in the actual case. The novel begins when Bobby arrives in White River Junction by bus. He has no intention of going to Canada because more important issues confront him. His mission is to confront the law professor cousin who refused to help after his legal troubles began. Bobby then learns that another faculty member at the same law school, with a name assigned by Witness Protection, is the informant responsible for his conviction. This is an angry and frustrated Bobby, who must come to terms with his cousin and the informant as well as himself. By simplifying Bobby's situation in Canada I saw the need to lighten the novel's darker story.
"Canada" is part of Disorderly Conduct, a story collection you're working on. Can you describe a few of the stories in the collection? Do they connect as far as themes or characters?
The collection has three long stories and one novella, the eponymous Disorderly Conduct. The narratives progress in time and place and the characters share the sensibilities of the Irish and Italian-Americans who often appear in my fiction. The stories take the reader from 1900's Sicily to today's Vermont by way of Queens, Brooklyn, and Newburgh, New York. The first story, Original Sin, is set against the background of a Sicilian peasant revolt. Here a young man's affair with his father's lover leads to patricide and immigration. In the title novella two young men are severely beaten by the police after being falsely arrested for assaulting an officer outside of a bar in Queens. In Brothers, which takes place in a run down Hudson River town, two brothers and a nephew navigate issues of betrayal, adultery, and a love affair with an African-American prostitute. Canada takes place in Vermont but with a backstory in Queens. The stories comprise the lost world that my fiction tries to preserve – Sicilian origins, life in Queens, Brooklyn, upstate New York, and finally in Vermont, where I now live.
How is the collection coming along? Is it something you're still writing or revising, or are you now putting it in the hands of agents or publishers?
The collection is done and I'm trying to get publishers interested. I don't have an agent.
What other creative projects have you got going these days?
I've been working on stories for over a year now, all of them pretty long, but none with the potential for another novel. There tends to be a novelistic sweep to whatever I write but right now I feel at home with the long story/novella format. I'm also revising White River Junction in light of the clarity of vision that I experienced by writing Canada.
Thanks, Vincent. Is there anything else you'd like to share with or explain to readers?
I taught writing to law students for several years and read quite a few cases, especially in Criminal and Constitutional Law. To fashion the story in White River Junction I combined Arizona v. Fulminante with events in Queens and in Newburgh New York. This is characteristic of all my fiction, marked by a strong sense of place and time and drawn from life experienced, witnessed, or even read about in history. My novel, Cutter's Island, is based on an event in the life of young Julius Caesar described by Plutarch – his capture by pirates in the Aegean Sea. Even in a story that took place over two thousand years ago, I drew on my life experiences. My origins are in my writing.
Read "Canada," a story from Vincent's collection Disorderly Conduct.