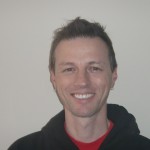 R Dean Johnson's fiction has twice been nominated for the Pushcart Prize anthology, and his essays and stories have appeared in Ascent, Natural Bridge, New Orleans Review, Slice, Santa Clara Review, The Southern Review, and elsewhere. He teaches fiction and creative nonfiction workshop in the Bluegrass Writers Studio, the Brief-Residency MFA program at Eastern Kentucky University, and his students all call him Bob. Originally from California, he now lives in Richmond, KY with his wife, the writer Julie Hensley (who calls him Bob), and their two children, Boyd and Maeve (who call him Da).
Bob, "Cards for All Occasions" comes from a work you're titling Delicate Men, about the frustrations and guilt men often feel for not living up to cultural ideals, or even cultural norms. In the story, Erik demonstrates his own fragility in trying to "protect" his beloved cousin, falling prey to his own insecurities, jealousy, ignorance, and homophobia. He makes a living expressing sentiment directed for and on behalf of strangers for Hallmark—a modern-day Cyrano of sorts—but is entirely out of touch regarding the relationships in his own life. Are other protagonists in the collection marked by such irony?
There is a strong thread of irony running through the collection of stories that make up Delicate Men. I like that you reference Cyrano because as much as irony plays a part in the collection, it is often informed by a search for, or veiling of, identity.
The collection's title story, "Delicate Men," is about a middle school boy trying to fit in at a new school. He gains a tenuous acceptance with the most popular crowd but when he witnesses a one-sided fight between one of his new friends and an unpopular kid, he empathizes with the latter. By the time he gets home he's crying and confused by his emotions. All along he's been afraid he'd be the one who got beat up at the new school, and as certain as he is that he avoided this fate, the reader knows he has been beat up emotionally. But, I don't know that the dramatic irony of that story would work as well if it weren't informed by the protagonist's struggle with identity at his new school.