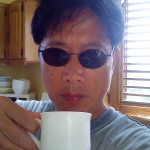 Khanh Ha's debut novel is FLESH (June 2012, Black Heron Press). He graduated from Ohio University with a bachelor's degree in Journalism. His new novel has earned a 2013 Leapfrog Fiction Award Honorable Mention. His short stories have appeared in Outside in Literary & Travel Magazine, Red Savina Review (RSR), Cigale Literary Magazine, Mobius, DUCTS, Lunch Ticket, The Mascara Literary Review, Taj Mahal Review, Glint Literary Journal, The Literary Yard, and will be forthcoming in the summer issues of Zymbol, Yellow Medicine Review (2013 September Anthology), The Underground Voices (2013 December Anthology), and The Long Story (2014 March Anthology). www.authorkhanhha.com
 Khanh, "Of Bones and Lust" from your novel Once in a Lullaby provides great depth into the narrator's background. Can you describe how the chapter sets up the greater narrative and what's to follow?
Once in a Lullaby is narrated by two voices in time parallel. Giang (pronounced Zhang), the narrator seen in "Of Bones and Lust," is a Vietnam war veteran, a former North Vietnamese soldier who defected to the South, and later a reform-camp prisoner following the fall of South Vietnam in 1975. After spending 10 years in a remote prison camp, as a drifter he finally settles in the Mekong Delta in the U Minh region, working as a caretaker in a roadside inn. Nicola Rossi, a deceased lieutenant in the U.S. army, is the other voice, the voice of a spirit, the omniscient voice. Through his voice we follow a search by an American woman–his mother–for the remains of her son, who went missing-in-action during the Vietnam War, where we come face to face with broken psyche, with barbarity, and with moral correctness. With his mother is her Vietnamese daughter adopted in 1974 when she was five years old. She's eighteen now when she meets 39-year-old Giang. He arranges for their stay at the inn and gets Miss Rossi a local man, another war veteran, who takes the American lady into the forest every day to look for bones. Whether she could eventually find her son's remains will be answered within the greater narrative. But it is always the bones. When you hold it in your hands, a fragment of bone, or a morose-looking skull marred with spiderweb cracks, you wouldn't know if it was a Vietnamese or an American bone or skull.