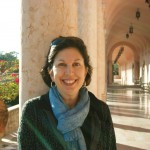 Rita Ciresi is the author of four novels (Bring Back My Body to Me, Pink Slip, Blue Italian, and Remind Me Again Why I Married You) and two award-winning story collections (Sometimes I Dream in Italian and Mother Rocket). She is professor of English and director of the creative writing program at the University of South Florida. She has received support from the Elizabeth Kostova Foundation, the Pennsylvania Council on the Arts, the Virginia Commission on the Arts, the Florida Department of State, and the National Writer's Voice. Her residencies include visiting writer at the American Academy in Rome, a fellowship to the Hawthornden International Writers' Retreat, and stints at the Virginia Center for the Creative Arts, Atlantic Center for the Arts, and the Santa Fe Art Institute. She has written the first and final drafts of most of her work at the Ragdale Foundation, an artists' colony located in Lake Forest, Illinois. Visit her website at www.ritaciresi.com.
Rita, in "The Art of the Hand," chapter one from The Doctor's Wife, Lydia and Mark make an unlikely pairing. Yet, before a large, curious, and admiring audience of med students, the seeds are planted of what (as the novel's title indicates) will become a long and lasting relationship. What span of these characters' lives are explored over the course of the novel?
The Doctor's Wife explores the impulsive nature of love. Mark and Lydia meet in August and the novel ends as they drive home from a Christmas party. I chose to tell the story in present tense so I can give the reader a better feel of being caught up in a whirlwind romance. But as I approach the finish line, I'm finding myself reluctant to let these characters go–so a sequel may be in the works.