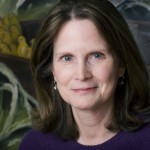 Kat Meads is the author of 15 previous books and chapbooks of prose and poetry, including: 2:12 a.m.; For You, Madam Lenin; The Invented Life of Kitty Duncan; Sleep; and when the dust finally settles. She also penned a mystery novel written under the pseudonym Z.K. Burrus. She has received a National Endowment for the Arts Fellowship, a California Artist Fellowship, and artist residencies at the Fine Arts Work Center in Provincetown, Yaddo, Millay Colony, and Blue Mountain Center. Other prizes include the Chelsea award for fiction, the New Letters award for essay, and the Editors' Choice award from Drunken Boat. Her short plays have been produced in New York, Los Angeles, San Francisco, Las Vegas and elsewhere. A native of North Carolina, she teaches in Oklahoma City University's low-residency MFA program.
Kat, this excerpt from In This Season of Rage and Melancholy Such Irrevocable Acts as These begins with the story of Elizabeth Jane Anderson's brief relationship with a soldier on leave that leaves her pregnant but determined. She chooses not to inform the soon-to-be father and instead moves out of her aunt's place and into a small cornfield trailer, prepared to raise the child by herself. But she miscarries. To quote her God, "All [she] had to do was sit back, grow fat and lazy." How does Elizabeth's pregnancy and the loss of her child affect her actions moving forward?
The miscarriage has a devastating effect on Beth (Elizabeth). Although the pregnancy wasn't planned, having a child turns out to be something she desperately wants—something that gives her a purpose, something to hope for, live for. When Matt Spruill starts pursuing her again and proposes marriage, she feels trapped and cornered, convinced that she's not "wife material" either.