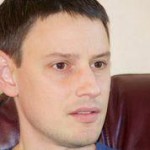 Jamie Duclos-Yourdon, a freelance editor and technical expert, received his MFA in Creative Writing from the University of Arizona. His short fiction has appeared in the Alaska Quarterly Review, Underneath the Juniper Tree, and Chicago Literati, and he has contributed essays and interviews to Booktrib. His debut novel, Froelich's Ladder, will be released by Forest Avenue Press as part of its 2016/2017 catalog. He lives in Portland, Oregon, with his wife and two children.
Jamie, this excerpt from Poor Henry finds the protagonist juggling new-father and house-husband responsibilities, which on this day include a "secret mission" to retrieve a family portrait. However, the normal excitement of his daily life is suddenly jolted by the appearance of a stranger outside his living room window, seeking safety. What was the genesis of the school shooting plot twist as you pieced things together?
School shootings have become so depressingly common in the United States, it didn't seem far-fetched to imagine one occurring in Vancouver, Washington. For the purposes of Poor Henry's narrative structure. I needed a definitive action to take place at the midway point. While the shooting itself doesn't represent that action, it does create an environment in which the characters can meet, and their worst attributes can be brought to the fore.