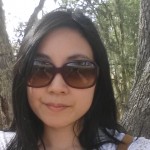 Carmen Lau's short stories have appeared or are forthcoming in Hayden's Ferry Review, Gigantic, Fairy Tale Review, The Collagist, Wigleaf, NANO Fiction, Matchbook and other journals. Her short story collection, The Girl Wakes, will be published by Alternating Current in 2016. She received her MA from UC Davis.
Carmen, in "The Great Queen of Wonderhaven," a young girl suddenly falls through the figurative "rabbit hole" and becomes Wonderhaven's queen after blowing out her birthday candles. Like Alice, she lives in a surreal world and is often overwhelmed by what she encounters, but in this case it's sometimes by news and events of the "real world" as told to the Queen by her mother and her cynical cousin Laurie. How do you see fairy tales in the context of literature and storytelling, and do you have particular favorites that perhaps influence you own work?
I've always been taken by the symbolic possibilities of using fairy tale elements in storytelling. There's something pre-rational about fairy tales; they come from and address the places within ourselves that defy "reason." They are primal and spiritual at once, expressing the dichotomies within the human mind in vivid, sometimes colorful, sometimes brutal images.
Reading the works of Kate Bernheimer and Angela Carter especially was an awakening for me. I read J.M. Barrie's Peter Pan for the first time at a relatively late age and was amazed by it. That book is for the child within grownups. It made me cry like a baby.