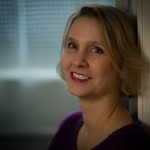 Leslie Pietrzyk is the author of two novels, Pears on a Willow Tree and A Year and a Day. This Angel on My Chest, her collection of linked short stories, won the 2015 Drue Heinz Literature Prize and will be published by the University of Pittsburgh Press in October. Her short fiction and essays have appeared in many journals, including Gettysburg Review, The Sun, Shenandoah, River Styx, Iowa Review, TriQuarterly, New England Review, Salon, and the Washington Post Magazine. She has received fellowships from the Bread Loaf Writers' Conference and the Sewanee Writers' Conference. Pietrzyk is a member of the core fiction faculty at the Converse low-residency MFA program and teaches in the MA Program in Writing at Johns Hopkins University. She lives in Alexandria, Virginia.
Website: www.lesliepietrzyk.blogspot.com
Literary blog: www.workinprogressinprogress.com
Twitter: @lesliepwriter
Leslie, in "Headache," an excerpt from your novel in the works Silver Girl, the unnamed narrator's friendship with her housemate Jess is taken to task. They became "besties" during their freshman year of college, but now, beginning their sophomore year off campus together comes with significant challenges. Jess's sister has died in a car accident that summer and she's broken up with her fiancé. These are both difficult subjects for the narrator to touch upon—and for good reason. Set in Chicago 1982, with the city's Tylenol scare/murders as another topic of interest, what can readers expect to discover as the novel progresses? Does Jess remain a pivotal figure or is this primarily the narrator's story?
Jess is definitely pivotal, though I see the story as ultimately belonging to the narrator. The rest of the book, which jumps around a bit in time over a couple of years, explores the complicated relationship between these two girls, each negotiating power as they know it, which for girls at that age is pretty much limited to sex or money. The backdrop of the Tylenol murders creates (I hope!) a terrifying sense of randomness; this incident may have been the first time modern, middle-class America truly felt vulnerable, when an unknown (to this day) person stuffed cyanide into capsules of Tylenol and returned them to drugstore shelves. Seven people died in the Chicago area, changing the way manufacturers package products. Of course, it's not enough simply to have a "backdrop" in a novel, so I took a few historical liberties and wove the Tylenol murders into my plot.
Both characters in the excerpt here are tricky to figure. Jess's stories about her family, particularly pertaining to the rumors and claims about the razor blade in the Halloween candy episode are unsettling, and it's hard to tell if she's dealing in lies, facts or something in-between. And it's unclear what circumstances have played/are playing out concerning the former fiancé, but the narrator may be at least guilty of lying by omission. Is the truth hard to come by throughout Silver Girl?
You're an astute reader! As the book is still, technically, "in progress," a thread or two from this opening may be snipped back, but my intent was definitely to create that unsettled tone you picked up on. While these two girls are best friends, neither has been entirely truthful with the other. There are any number of reasons people lie or carry secrets—fear, wanting to protect someone—but I suppose at the core, the inclination away from the truth is simple: that what is, is somehow unacceptable. I'm sad that these two lost girls can't trust each other with their secrets, but I also think that's what draws them together, a recognition that they are cut from the same cloth. Of course, that similarity is what pushes forward the conflict.
The narrator "liked seeing that someone one could care deeply about something like a poem. I couldn't be that way, even when I tried." And later expresses guilt for not being a good listener, and not always providing Jess support ("that's what a friend does"). Are we to question her telling of events as they unfold?
The unreliable narrator fascinates me. I'm interested not necessarily in the ways a narrator might lie outright to the reader, but more so the ways in which a narrator might—or must—lie to herself. We're all liars to some extent—though we may be uncomfortable thinking of ourselves so—and it seems to me that self-deception is a fascinating complexity to explore through fiction. Maybe the classic unreliable narrator is Humbert Humbert in Lolita, but I think my early model was Holden Caulfield from The Catcher in the Rye; first reading that book in my teens was a window into complexity in literature and in life. In more recent reading, Eva Khatchadourian in Lionel Shriver's outstanding novel We Need to Talk About Kevin is the ultimate unreliable narrator, stripping off layers to work her way, slowly and relentlessly, to a core of truth that took my breath away.
Like Holden and Eva, I don't think my narrator is a natural liar; I think circumstances have brought her to this tenuous place, where she has been pushed into secrecy and silence, and the pressure is too much to bear. Like the saying goes, chase your main character up a tree and throw rocks at her…which sounds cruel, especially since I'm sure this narrator expected to find safe haven up that tree, and I know she deserves a bit of shelter.
Finally, I think I've become so fond of lying narrators and lying characters that often when I'm teasing out a story or chapter and feel stuck, I drop a lie into someone's mind or mouth. Insta-tension!
Some of us still remember the Tylenol scare that summer, so it's hard to believe it was more than 30 years ago. Regarding the sweeping technological changes since then, I particularly enjoyed the description of the ringing phone: "The phone still rang. This was a time before answering machines, before voice mail, email, instant messaging, and Skype. Letters and phone calls were what we had. This was a time where not answering a ringing phone was an act of subversion." So true! The old rotary dial phone could itself become an intruding character—answering it was like playing Russian roulette, but not doing so left one wondering who was out there. What do you find are the challenges that come with writing about time periods a generation or two ago?
I love comparing the act of picking up a ringing phone to Russian roulette, especially this phone, which does bring some bad news later in the book. One of the things I like about writing in an earlier time period is that I don't need to worry about the technology aspect getting dated as I work for the 2-3-4 years or more it takes to finish a novel, let alone then get it published. Instagram, one of my favorite social media sites, was started in 2010, only 5 years ago! Who can keep up?
One drawback of writing in this earlier time is trying to get things exactly right. I find myself googling odd questions like "most popular Clinique lipstick shade in 1980s." I guess before Google I would have made up a name, but knowing that perfection is out there a few clicks away is hard to resist. Plus, I think about someone reading the book and possibly recognizing the tiny, exact detail of a Clinique lipstick she may have used back in the 80s. Not only will she be delighted, but that factual precision builds authority for the things I do invent. (If anyone is interested, I faced a choice between Black Honey and Raspberry Glacé, settling on Raspberry Glacé.)
It's unfortunate that much of the pop culture of the early eighties results in a lot of laughs now—the "Flashdance" look with leg-warmers and ripped sweatshirts, for example, or big waves of feathered hair. So while writing, I had to look for authentic details that wouldn't draw attention to themselves in a negative way to a modern audience, which was a challenge when talking about clothes, TV/movies, and music. And finally, well, who knows if a young, contemporary reader will be able to visualize a portable electric typewriter or a pay phone? I'm hoping those readers will be charmed at the idea that one might find an errant quarter in the phone's coin return, often enough that checking becomes a habit, as it is with my cash-strapped narrator, that this was a world where one could actually buy something with a couple of quarters.
How are things coming along with the manuscript? Is Silver Girl approaching the stage where it's ready for agents or publishers?
I thought the book was done, or at least ready for an initial foray into Agentland. Then I thought again. I asked a valued reader to look it over and offer some thoughts on one specific (and large) question that still loomed, and I got some great feedback…the sort of comments and suggestions that one can't possibly ignore, even if it might be easier not to dive back in. So at the moment, I'm about to make the plunge. With luck, I'll be querying in the fall.
What other creative projects have you got going these days?
I have a voice that became a story, and that story seems to want to become a novel. I think I'm still in that very pleasant phase of thinking and dreaming and wondering and wandering. The writing on this project thus far has been low-risk and enjoyable, mostly poking around to see what shows up. In the more immediate future, I'll be launching my new book of short stories in early October so I have to accept that for a while, I won't have much time or energy for thinking or writing…but hey, no complaints!
Thanks, Leslie. Is there anything else you'd like to share with or explain to readers?
Several scenes and/or chapters of this novel were sparked by writing prompts. I meet once a month with a group of writers in my neighborhood for prompt writing, and I've been amazed at what we can accomplish in half an hour. Not every prompt assignment pans out, obviously, but every month, after we're done writing, at least one of us will read something produced in thirty minutes that is absolutely incredible. Writing a novel can feel daunting in many ways, including simply the amount of time it takes to get to page 250, so I'm here to suggest that there's also a way to chop up that beast into tiny segments and make progress even if you don't have the luxury of sitting at a desk for 8 hours in a row, 7 days a week.
Read "Headache," an excerpt from Silver Girl, Leslie's novel in progress