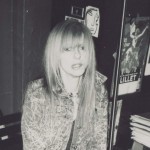 Stephanie Dickinson, raised on an Iowa farm, now lives in New York City. Her novel Half Girl (winner of the Hackney Award given by Birmingham-Southern) is published by Spuyten Duyvil.  Corn Goddess (poems),  Road of Five Churches (stories) and Straight Up and No Sky There (stories) are available from Rain Mountain Press. Her story "A Lynching in Stereoscope" was reprinted in Best American Nonrequired Reading and "Dalloway and Lucky Seven" and "Love City" in New Stories from the South, Best of 2008 and 2009. She is the winner of New Delta Review's 2011 Matt Clark Fiction prize judged by Susan Straight. Her Port Authority Orchids was a 2012 finalist for the Starcherone Book Prize for Innovative Fiction.
Thanks for sharing this chapter with WIPs, Stephanie. It's powerful and haunting. How did this novel evolve?
On July 26, 2006, Jennifer Moore, age 18, was abducted after a night of underage drinking and taken by small-time pimp, Draymond Coleman, to a seedy Weehawken hotel room that he shared with his prostitute/girlfriend, 20-year-old Krystal Riordan. During the early morning hours, Jennifer was raped and strangled by Coleman, while Riordan looked on.  The entire evening had been one of poor judgment that began when Jennifer's friend drove them in her mother's car to Manhattan from New Jersey, to go clubbing. The girls parked in a No Standing Zone and when they returned, discovered the car had been towed. The Impound would not release the car to the intoxicated girls. Jennifer's friend passed out and EMS spirited her off in an ambulance to St. Vincent's Hospital. Jennifer, in her white mini and black halter, walked off into the night and ended up on West Side Highway with Coleman stalking her.