CHAPTER EIGHT : THE GIBSON GIRL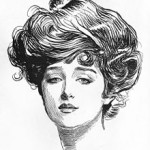 From the moment they began to anticipate her, to somehow believe in her, Charles Dana Gibson and Richard Harding Davis had agreed on her attributes, her future in the New World.
In the New World the Girl would be an American thoroughbred. She would appear magically, focusing out of all those moments when Romance was on the town.
And… (A very long and… it seemed)
One week she was suddenly there in the pages of Life–hair upswept in a soft pile, gray eyes gentle yet unflinching. Sometimes she wore a "rainy-daisy" skirt that cleared the ground by six inches, but that was for stormy weather. She was graceful on the tennis court, pursing her lovely mouth as she deftly returned the ball at the other. Quiet and demure she was, but unafraid. The Gibson Girl: American femininity–girl and woman. She looked at you shyly, but with clear steadiness and a bit of mischief in her eyes. A fine intelligence in her eyes, but nothing of the Amy Lowell bluestocking about her.
But in the wondrous matchmaking of romance who was to be the Gibson Boy–the inevitable He?