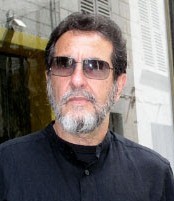 Harold Jaffe is the author of 22 volumes of fiction, novels, docufiction, and essays, most recently Anti-Twitter: 150 50-Word Stories, OD, Paris 60, Revolutionary Brain, Othello Blues, and Induced Coma: 50 & 100 Word Stories. His books have been translated in France, Spain, Italy, Germany, Japan, Cuba, Turkey, Romania and elsewhere. Jaffe is editor-in-chief of Fiction International.
Hal, this collection covers a broad range of subjects, what with around 150 stories. Still, Induced Coma, the "degraded version of Nirvana," is an intriguing opening piece and an apropos appellation for the entire collection. Can you discuss how the title "Induced Coma" speaks to the book as a whole?
The world is perishing and we're being fed bromides. Long before global warming the British socalist thinker Raymond Williams wrote that if there were a great and vast peril, world leaders would do one of two things: lie about it to service their constituency and maintain status; or simply, stupidly, not comprehend the peril. Williams was right. We are compelled to witness the consequences of global warming in banally capitalized ways: pop movies featuring post-apocalyptic zombies; biological humans miming cyborgs for an inorganic protection; undisguised economic cruelties toward the disadvantaged.
There was formerly an invisible line which demarked a relative civility; in our collective but largely unacknowledged panic, that line has been oficially eroded. Many humans sense the horrific dangers and act them out without, as it were, inhabiting them. Induced coma.