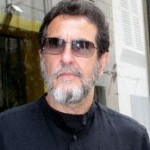 Harold Jaffe is the author of 23 volumes of fiction, novels, docufiction, and essays, most recently Anti-Twitter: 150 50-Word Stories, OD, Paris 60, Revolutionary Brain, Othello Blues, and Induced Coma: 50 & 100 Word Stories. His books have been translated in France, Spain, Italy, Germany, Japan, Cuba, Turkey, Romania and elsewhere. Jaffe is editor-in-chief of Fiction International.
Hal, your novel Brando Bleeds covers a lot of ground in various forms in depicting Marlon Brando's life, providing readers with a certain sense of insight into the man himself that goes well beyond our simple understanding of celebrity. Why did you choose Brando for your novel's subject? Has his story been something you've wanted to address for a while?
Certain figures interest me, and they often seem to combine an unremitting cultural resistance with melancholy, compassion, and a coyote-trickster sort of humor. Odd-seeming combination, I know. With this "odd-seeming combination" in mind, I've written about Chet Baker, Hurricane Carter, Walter Benjamin, Leadbelly, Lady Day, Nina Simone, and–hold the phone–Charles Manson. Best not to believe what you've heard about Manson.
I think of Brando in a similar vein as one of my (reimagined) humans.